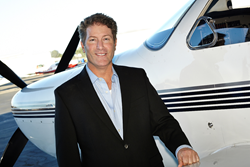 Our time is limited and we must make the very best of it no matter what the situation
San Diego, California (PRWEB) April 07, 2015
Modern technology, proper training, security measures, and medical exams for pilots were not enough to stop a co-pilot from deliberately crashing a commercial airplane flight into the rugged Swiss Alps, but how was this possible? DeLaurentis, an experienced pilot who has flown solo to many places around the world with another 25 country trip starting in May, believes no one could have predicted the tragedy, and that control is just an illusion.
Commercial airlines and pilots can instead use the recent Germanwings airplane crash, which was reported on by the Telegrah earlier in March, as an opportunity for change and growth. Flying Thru Life, DeLaurentis's vision, aims to show a perspective on the value of life in a recent commentary where he explains to his readers how the accident in Switzerland can turn fear into boldness and grief to inner healing.
"Incidents like this force us to deal with the things we fear most," DeLaurentis states. "Our time is limited and we must make the very best of it no matter what the situation. Through this pain, struggle and heartache we learn that our lessons are not intended to hurt us, but to expand our ability to love others and move past the things that hold us back."
In a recent article on the Christian Science Monitor, which covered the mental illness of the co-pilot, philosopher and mental health pioneer, Jean Vanier, was quoted on the topic of love. "Wounded people ... ask for only one thing: a heart that loves and commits itself to them, a heart full of hope," he states. "We have universities; we have schools of technology. But where are the schools for love? Who will teach us to love? Who will help us to come out from the frontiers that we lock ourselves behind?"
Robert DeLaurentis will release his book, Flying Thru Life, after his return from his solo trip, circumnavigating the world. He is a sought after speaker, pilot, and entrepreneur who brings encouragement and wisdom through his writings and talks. Flying Thru Life has quickly become a premier resource for private pilots and businesses and is recommended by clients at MMOPA, AirVentures, MOAA, and Big Bear Airport Pilots Association.
For more information on Robert DeLaurentis and to book a speaking engagement, please contact Robert at FlyingThruLife.com for more information.