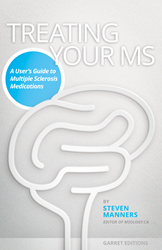 There are many difficult choices to make when you're living with MS. My hope is that Treating Your MS will be a helpful resource for people in making those decisions about how to manage their MS.
Montreal, Quebec (PRWEB) April 09, 2015
Two decades ago, there were no effective medications to treat multiple sclerosis (MS), a devastating neurological disease that affects over two million people worldwide. Now there are 10 medications that modulate the abnormal immune response in MS, each with a unique "personality" of benefits and side effects. This wealth of choice poses a challenge to people living with MS: how do I make an informed decision about the best medication to suit my situation?
A new book, Treating Your MS: A User's Guide to Multiple Sclerosis Medications addresses that question with in-depth explanations of all of the therapies currently available to treat relapsing-remitting people with MS. Author Steven Manners synthesizes the results from hundreds of studies to present an in-depth, easy-to-understand explanation of the MS disease process, how MS progresses over a person's lifetime, and what treatments can and cannot achieve. One chapter even discusses whether pregnancy can be viewed as a "treatment" for MS.
"People with MS need to treat their illness to control the inflammation in the brain and spinal cord that contributes to disability," says Manners. "Treatment is a long-term commitment, so it's important to select a medication that a person can incorporate into his or her daily life. A drug has to work to control inflammation. But it won't work if someone doesn't take it because of burdensome side effects or worrisome safety issues."
Choosing the best medication is a very individual decision. So Treating Your MS provides separate chapters on all of the current therapies: the interferons, Copaxone, Tysabri, Gilenya, Aubagio and Lemtrada. The final chapter provides readers with a framework for choosing the best medication to suit their personal circumstances. The information is current as of February 2015, providing the most up-to-date resource for understanding MS medications.
Author Steven Manners has written extensively about MS. For 10 years, he was the writer/editor of the largest-circulation MS magazine in Canada. Manners currently writes for MSology (http://msology.ca), a weekly news service for people affected by MS, that has been read by about 100,000 people worldwide.
"It's difficult to keep abreast of the many developments in MS research," Manners says. "What I wanted to do was provide people with a better understanding of the studies that have been done, why they were done, and what we've learned about MS in the process. There are many difficult choices to make when you're living with MS. My hope is that Treating Your MS will be a helpful resource for people in making those decisions about how to manage their MS."
#
Treating Your MS: A User's Guide to Multiple Sclerosis Medications
Steven Manners
Publisher: Garret Editions; 2015
Language: English
Kindle edition: http://www.amazon.ca/dp/B00V3KK56A (or local Amazon site)
ISBN-10: 0987837523
Kobo edition: http://bit.ly/1CwM7ZG (http://www.chapters.indigo.ca or https://store.kobobooks.com)
ISBN-10: 0987837524
USD $7.98 / CDN $9.99
Paperback edition: 290 pages
Publisher: Garret Editions; 2015
ISBN-10: 0987837532
Available at http://www.amazon.ca/dp/0987837532
USD $15.95