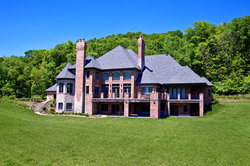 Growth within our professional specialty areas is essential, as well as sharing this knowledge with not only those we serve at Castlewood, but with the wider professional and public communities.
ST. LOUIS, MO (PRWEB) April 07, 2015
Castlewood Eating Disorder Treatment Center announces that a case study and conceptual framework article by therapists Laura L. Wood, MA, LPC, RDT, CCLS and Christine Schneider, MSW, LCSW has been published in the January 2015 issue of Drama Therapy Review. Entitled "Setting the stage for self-attunement: Drama therapy as a guide for neural integration in the treatment of eating disorders". The article examines the use of drama therapy as a promising way to enhance neural integration in the brain to treat clients with eating disorders.
Neural integration involves the coordination of specific areas of the brain to help individuals with many types of physical and behavioral health issues. It increases an individual's ability to modulate his/her emotional experience in a way that allows for a more adaptive behavioral response. This is extremely important to those with eating disorders, since a scientific hallmark of these disorders is a lack of neural integration that results in rigid rule-driven thinking (in anorexia nervosa), and impulsive behaviors and/or feelings of overwhelming emotion (in bulimia nervosa and binge eating disorder.) Neural integration requires the use of embodied therapies as way of engaging all areas of the brain. Based on this understanding, Wood and Schneider utilize role-based drama therapy as a neural integration technique for their clients at Castlewood.
Their in-depth discussion of drama therapy provides a literature review of eating disorders, neural integration and current approaches to eating disorders. Drama therapy is only one way neural integration is being utilized to treat eating disorders at Castlewood Treatment Center.
Expressive therapies, such as Drama Therapy, are included as a part of each client's customized treatment plan at Castlewood. Based on their own research, and that of the wider scientific community studying cutting-edge therapies for eating disorders and associated issues, Castlewood provides expressive therapy in each level of care they provide. Co-author Laura Wood said, "At Castlewood we demand the best of ourselves and our team to remain current, and help develop new evidence-based approaches to helping clients with eating disorder. Growth within our professional specialty areas is essential, as well as sharing this knowledge with not only those we serve at Castlewood, but with the wider professional and public communities."
Ms. Wood graduated with her Masters of Art in Drama Therapy from New York University and is currently a doctoral student in Counseling and Supervision at the University of Missouri-St. Louis. She has been selected to serve on the board for the National Association of Drama Therapy as the Central Region Representative. Laura is currently a primary therapist, as well as the lead therapist at Castlewood I, where she facilitates individual and group therapies. Her focus areas include the treatment of trauma and dissociation, attachment, grief and loss and the use of drama therapy and expressive action based methods to treat these areas. Ms. Wood teaches locally and lectures nationally on drama therapy and eating disorders.
Ms. Schneider graduated with her Masters in Social Work from Washington University in St. Louis, Missouri. She is currently a doctoral candidate at St. Louis University in the field of Medical Family Therapy. Ms. Schneider is also adjunct faculty at St. Louis University, teaching in the Department of Social Work and the Department of Psychiatry and Neurology. Her current areas of research and interest are the effects of trauma and chronic illness on parent-child attachment. She is a lead therapist and Director of Family Programming at Castlewood, incorporating theories of attachment and interpersonal neurobiology into her individual, family, and group work. Ms. Schneider speaks regionally, nationally and internationally on topics related to attachment, couples counseling and trauma. She is a member of American Association for Marriage and Family Therapy.
About Castlewood
Castlewood Treatment Center helps people with eating disorders transform to healthier lives. Established in 2000 as the first residential treatment facility in Missouri, Castlewood's licensed health care team is nationally recognized and has decades of combined experience in providing compassionate, professional and successful treatment for more than 1,000 men and women with eating disorders and related conditions. They offer individualized, supportive and comprehensive care in a home-like residential setting to help people towards recovery and a bright, healthy future. Castlewood facilities are located in St. Louis, Missouri; Monterey, California; and Birmingham, Alabama and are accredited by the The Joint Commission. St. Louis facilities are also accredited by the Commission on Accreditation of Rehabilitation Facilities. For more information, visit http://www.castlewoodtc.com.