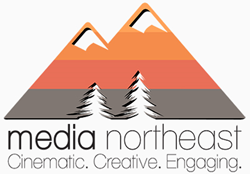 I think we solve problems for clients in pre-production
Portland, ME (PRWEB) April 13, 2015
Media Northeast, the Portland, Maine video production company, is expanding its roster of services and capabilities, and is now recognized as the premier video production and video post-production services provider in the region. Their secret: a winning blend of best-in-market technical expertise, ambitious creativity and attentive customer support that turns each assignment into a collaboration. Corporations, enterprises and media channels turn to Media Northeast when they have a creative and messaging destination in mind, but don't yet know how to get there.
Media Northeast's process is straightforward and proven to deliver outstanding results. The Portland, Maine video production company works hand-in-hand with clients from beginning to end, with a special focus on listening: close collaboration and attention to detail allows the Media Northeast creative team to understand their clients intuitively, along with their goals, philosophy and the way they need to engage their customers. The result is a production process that is fast and efficient, and videos that are gorgeous, highly relevant and supremely effective.
Media Northeast clients include a broad variety of enterprises and industries, and the company's work includes commercials, branding, production support and post-production, and much more.
"I think we solve problems for clients in pre-production," said Media Northeast Owner & Operator Josh Swan. "Most of our corporate and commercial clients have a precise understanding of their audience, but only a vague idea of their message and how to connect the two. We work with them to craft that message and build a story that will resonate with their audience."
Swan emphasizes that close collaboration in conceptualization and pre-production pays qualitative dividends when it comes time to shoot the video, and again in video post-production. "Our clients see the shot list and watch the production unfold and then have more input in post-production, and they understand how the decisions we made are brought to life in a video narrative that tells their story clearly and in a way that is creative and visually stunning."
Swan is enthusiastic about Media Northeast's ability to further expand its range of services and its reach as the premier Portland, Maine video production company, including a new wave of international corporate clients: "This is an exciting time for us. We let the quality of our work speak for itself, and the marketplace is listening."