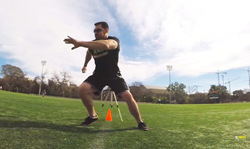 Each Paleo f(x) FitScore participant will be able to track their progress, set goals & compare to others.
Austin, TX (PRWEB) April 07, 2015
"Paleo f(x) has teamed with REALFIT to create Paleo f(x) FitScore, a proprietary fitness scoring test to measure a person's raw athletic potential, which is not tied to any one sport or activity," says Keith Norris, co-founder of Paleo f(x). The new test will be available at the Paleo f(x) 2015 Conference in Austin, April 24-26. 
"Paleo f(x) FitScore is a comprehensive fitness scoring solution for all fitness levels across age, ability and gender," says Norris, who is an Efficient Exercise and ARXFit Master Trainer. "The closest analogy to the Paleo f(x) FitScore is the NFL Combine, in that we're not measuring fitness as tied to a specific sport (where a high degree of sport-specific skill must be present in order to excel), but rather we're measuring raw athletic potential."
"The individual events are easy to perform (from a skill perspective), and easy to measure and quantify," says Norris. "However, the difference between good, better and great is easy to see."
"One of the distinguishing factors of REALFIT is the discipline around the testing procedures, which includes certification of results through REALFIT-trained officials," says REALFIT founder Dave Patzwald. "For Paleo f(x) FitScore we developed a custom score which includes new tests based on the more sophisticated ARX technology. At REALFIT we believe those machines may be improvements over the standard bench and squat tests used even in the NFL combine. Every participant at the Paleo f(x) event will have full access to their FitScores after the event, including the ability to track progress, set goals and compare to others." See video preview here: https://www.youtube.com/watch?v=XSicLuHkVFg
"Each Paleo f(x) FitScore participant will also be able to measure his or her performance against a mountain of recorded data, and can be viewed against their age group, gender, etc.," says Norris. "Participants will be able to measure his or her performance vs the best in class.  For instance, how does a participant's 40 yard dash performance hold up against that of Chris Johnson (holder of the NFL Combine 40 yard dash record).
"Fitness, food and lifestyle come together at Paleo f(x) as Paleo goes beyond diet for a holistic lifestyle aimed at preventing disease and experiencing wellness to one's fullest capacity," says CEO Michelle Norris. Paleo f(x) is the largest Paleo event in the world, scheduled for April 24-26, 2015 at the Palmer Events Center in Austin, TX. For more information and to register visit http://www.Paleofx.com
Paleo f(x) 2015 will feature the "Who's Who" gathering of the Paleo movement, with world-class speakers including New York Times best-selling authors, physicians, nutritionists, research scientists, professional athletes, trainers, sustainability and food activists, bio-hackers, and more. Confirmed speakers:  Robb Wolf, Mark Sisson, Melissa Hartwig, Dallas Hartwig, Chris Kresser, Nora Gedgaudas, Dave Asprey, Dr. Sarah Ballantyne, Dr. Terry Wahls, Sarah Fragoso, Ben Greenfield, Michelle Tam, Nell Stephenson, and many more.