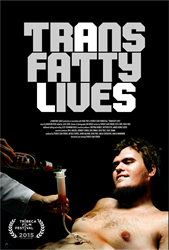 Cambridge, MA (PRWEB) April 08, 2015
ALS is taking center stage again with the world premiere of the documentary, TransFatty Lives, at this year's Tribeca Film Festival this April 15-26. TransFatty Lives is a film by and about Patrick Sean O'Brien — who in 2005, at age 30, was diagnosed with ALS and told he would only have five years to live. A documentary that took ten years to create, TransFatty Lives combines home movie footage with interviews with family members and friends to portray O'Brien's journey with ALS from diagnosis to current day. The film will debut at Tribeca Film Festival on Thursday, April 16, followed by three additional screenings on April 17, 21 and 23.
Additionally, in an effort to provide resources for supporting ALS research and speech-assistive technology, TransFatty Lives has chosen to partner exclusively with the ALS Therapy Development Institute (ALS.net), a nonprofit biotech focused solely on finding treatments and a cure for ALS, and Acapela Group, a text-to-speech (TTS) solutions provider.
Immediately following the first two screenings of TransFatty Lives will be a Q&A featuring film director and subject, Patrick O'Brien, the film's producers, and representatives from the ALS Therapy Development Institute.
"I could not be more honored and stoked that this labor of love and agony has been accepted to debut at The Tribeca Film Festival. Partnering with the ALS Therapy Development Institute (ALS TDI) on its premiere makes it even more special. My film is 90 minutes long and in that same amount of time, someone will be diagnosed with ALS, and another person will die from it. ALS TDI not only represents the best hope for a treatment for this disease, but its staff has supported me and my desire to finish this film for many years. I am grateful for their dedication to me and everyone living with ALS," says Patrick O'Brien, director and star of TransFatty Lives.
To purchase tickets to the documentary screening, visit Tribeca Film Festival's TRANSFATTY LIVES film guide.
For more information and updates about TransFatty Lives, visit the film's website and follow on Facebook and Twitter.
About the ALS Therapy Development Institute
The ALS Therapy Development Institute and its scientists actively discover and develop treatments for ALS. The Institute is the world's first and largest nonprofit biotech focused 100 percent on ALS research. Led by ALS patients and their families, the charity understands the urgent need to slow and stop this horrible disease. Based in Cambridge, MA, the Institute has served as one of the leaders in sharing data and information with academic and ALS research organizations, patients and their families. For more information, visit http://www.als.net.
Media Contact: Mari Cody, ALS Therapy Development Institute, mcody(at)als(dot)net, (617) 441-7220