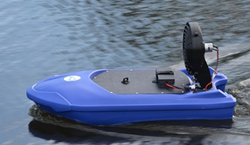 The TORMADA™ was designed to take the chore out of having to treat your pond or dock area for weeds and algae.
Rogers, MN (PRWEB) April 08, 2015
Lake Restoration, a pond and lake weed control company located in Rogers, MN, today introduced a new product application tool for treating aquatic weeds and algae. The TORMADA™ is an unmanned lightweight boat that is operated by remote control.
With a simple plug and play set up, the TORMADA™ is easy to use and lots of fun to drive. Using a hand held remote one can control the fan speed and direction of the boat, easily navigating their way around a pond or lake shore. There is no need to mix the products, and the TORMADA™ will naturally dispense the products until the tank of the boat is empty.
By using the TORMADA™, the awkward task of using a sprayer is eliminated. Also, the exposure to products is limited while treating. Previous areas that were once hard to reach with a sprayer, will now be treated with ease right from the shore. The boat has a range up to 1,000 feet, has forward and reverse power, can be easily maneuvered using the pistol grip controller, and it is fun!
"The TORMADA™ was designed to take the chore out of having to treat your pond or dock area for weeds and algae," said Mary Jo Furman, Product Sales Manager at Lake Restoration. "We are very excited about the TORMADA™ and feel that it will add an element of fun and also make it easier for those customers who want to treat their pond, but found it too difficult in the past."
The TORMADA™ can easily dispense different liquid products. The tank capacity is one gallon and the toggle valve on the back of the boat can be adjusted to restrict flow or increase the speed at which the product is dispensed into the water. Ponds are kept looking great by applying the PONDRestore® kit products, or dock and swimming areas are kept free from weeds and algae with the RestoreAccess® kit. Each kit contains an herbicide, Mizzen® algaecide and other products for promoting the health of the pond or lake.
The patent pending TORMADA™ is manufactured by Lake Restoration, Inc. in Rogers, MN. View the TORMADA™ videos at TORMADA.com or call them for details.
About Lake Restoration
Lake Restoration, located in Rogers, MN, has been restoring the beauty of lakes and ponds since 1977. Every year thousands of satisfied customers use Lake Restoration products to keep their ponds, lakes and other water features in pristine condition. Lake Restoration offers a complete line of exclusive, simple, do-it-yourself solutions to treat a variety of pond weed maladies. To learn more about controlling pond and lake weeds and products and services to accomplish this, visit LakeRestoration.com.