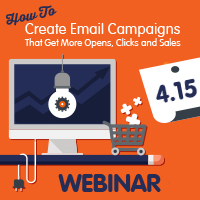 Easy to digest marketing information that covers everything from mobile emails to effective email copy and design
SANTA CLARA, CA (PRWEB) April 08, 2015
On April 15, 2015 at 1:00 PM EST Pinpointe, a leading cloud-based email marketing company, will be hosting a webinar on writing and designing email marketing campaigns that result in an increase of opens, clicks and sales. Register now.
The webinar will feature special guest speaker Pam Neely, author of "50 Ways to Build Your Email List." Pam will expand on everything from effective mobile emails to killer email copy and design.
A Glimpse Of What Else Will Be Covered:

Subject lines and pre-header text
Call to action (CTA) copy
Components of successful mobile-responsive email
Segmentation and personalization
Using surveys to get subscribers to tell you what they want
+++ Plus More
For marketers interested in learning how and what to do to make an email campaign work harder, this is one webinar that shouldn't be missed. Learn more or register.
About Pinpointe
Pinpointe is a top-rated email marketing provider by TopTenREVIEWS. Intuitive and flexible, Pinpointe is ideal for customers who need more than the basics of email marketing but aren't ready for the complexity of full-on marketing automation system.
To experience Pinpointe for free call (800) 920-7227 or visit Pinpointe on the web for a full feature one-month trial.
About Pam Neely
Pam Neely is a marketing content creator with almost two decades of experience in creating and sending email campaigns. She has helped local retailers, national chains, ecommerce sites, and B2B and SAAS companies create emails that engage and retain their audience. Pam has a Master's Degree in Direct and Interactive Marketing from New York University and is the author of "50 Ways to Build Your Email List", available on Amazon.com. Learn more about Pam.