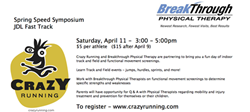 'We are thrilled to be partnering with Crazy Running to teach student athletes in our area more about participating in track and field events and staying safe and healthy while doing so,' said Cheryl Pfruender, Winston-Salem Clinic Manager
Winston-Salem, NC (PRWEB) April 07, 2015
BreakThrough Physical Therapy (BTPT)'s highly trained physios will host a runners clinic for student athletes in partnership with Crazy Running on Saturday, April 11 at the JDL Fast Track. The clinic will be held from 3:00 – 5:00 PM.
In addition to learning more about track and field events at the clinic, BTPT physios will work with student athletes to perform functional movement screens (FMS). FMS is an injury prevention screening tool that allows BTPT physios to identify strengths and weakness in the body. Identifying these risk factors then allows BTPT physios to recommend corrective exercises to keep your student athlete injury-free. In addition to performing FMS, staff will also discuss proper shoe fit, common runner's injuries such as shin splints and IT band pain, and offer answers to any questions.
"We are thrilled to be partnering with Crazy Running to teach student athletes in our area more about participating in track and field events and staying safe and healthy while doing so," said Cheryl Pfruender, PT, DPT, MTC, OCS, Winston-Salem Clinic Manager. "We look forward to working with local students and their parents to help them meet their goals while reducing their risk of injury."
Registration for the clinic can be completed online and costs $5 ($15 after April 9). Those who can't attend the clinic but are interested in book an appointment or an FMS with an expert physio in Winston-Salem can do so by calling (336) 765-4703.
About BreakThrough Physical Therapy (BTPT):
BreakThrough Physical Therapy (BTPT) is a private physical therapy practice with seven locations in Cameron, Greensboro, Fayetteville, Morehead City, Raleigh, and Winston Salem, North Carolina. BreakThrough Physios pride themselves in having advanced training in delivering hands-on treatment to achieve optimal results in a shorter timeframe for patients suffering from all orthopedic conditions. Common conditions treated include sports and work related injuries, neck and back pain, headaches, and muscle and tendon disorders. For more information visit BreakThroughPTclinics.com.
###