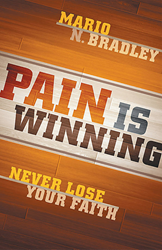 I want people to find hope and realize the pain they might be going through will one day end.
Murfreesboro, TN (PRWEB) April 07, 2015
CrossBooks is pleased to announce the nationwide release of Pain Is Winning by university student Mario Bradley. This autobiographical work tells the young man's story of growing up in Memphis, Tennessee, experiencing firsthand a relentless stream of violence, adversity, loss, and poverty. Through it all, however, Mario reminds readers that by trusting in God and holding His hand when times got rough, he overcame each obstacle.
Bradley recounts a childhood marked by his personal battle with cerebral palsy as well as watching his mother endure physical and verbal abuse for many years. He lost his grandmother and six months later lost his mother who was killed by a drunk driver. Living in poverty, the boy was exposed to drug dealers and gang violence but never lost hope thanks to his Christian faith.
"My life has been a real journey through pain and struggle, and I just wanted to let my voice be heard," said Bradley. "I want people to find hope and realize the pain they might be going through right now will one day end. With God I've been able to overcome all of these obstacles thrown at me by the devil."
CrossBooks publisher Paul Mikos added, "Readers will find encouragement and peace in Mario's story. They'll be inspired to gain strength in their relationship with God—to never give up and to know that nothing is impossible when you put your trust in Him."
Pain Is Winning is now available online through CrossBooks on LifeWay.com, as well as Amazon, Barnes & Noble, and other major retailers.
Mario Bradley attends Middle Tennessee State University where he is majoring in Leisure, Sports, and Tourism. A prominent figure in his community, he has a philanthropic heart and is passionate about giving back to charities and nonprofit organizations that support education and parents in need. He lives in Murfreesboro, Tennessee, and plans on relocating to California after graduation.
An imprint of B&H Publishing Group, CrossBooks offers a unique blend of traditional and self publishing. It serves a variety of Christian writers, from established authors to Christian leaders and first-time authors. As a ministry of LifeWay Christian Resources, CrossBooks is committed to unwavering principles of excellence and Christian faith. For additional information, please visit http://www.crossbooks.com.