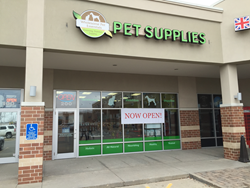 It's been very satisfying seeing [my business] come together. I love to see happy customers with their pets.
Ankeny, Iowa (PRWEB) April 10, 2015
Business ownership has always been Bob Leavens' dream, and after holding various jobs in the animal and pet care industry, he left the corporate world to invest in his own business dedicated to four-legged family members: Wholesome Pet Essentials.
"[My wife and I] love pets," Leavens said. "[Starting our own pet business] seemed like a good way of having some fun at work."
Wholesome Pet Essentials is a one-stop shop for pet grooming, nutrition and supplies, serving Ankeny and the surrounding areas. It sells natural, holistic pet food from known safe sources, and provides a comfortable grooming environment for pets, including a self-service pet bathing area.
Leavens called on small business financing firm Guidant Financial to help him purchase his new venture. Using a Rollover as Business Start-up arrangement, he leveraged funds from his retirement account to invest in the business without incurring any tax penalties — a process he described as "excellent."
"With all the [effort that goes into starting a business], it's nice to have [Guidant's] financial resources available without hassle," he explained.
Wholesome Pet Essentials is now open for business, and Leavens has thoroughly enjoyed his first few weeks of catering to the community's furry friends. "It's been very satisfying seeing it all come together," he beamed. "I love to see happy customers with their pets."
The grand opening celebration for Wholesome Pet Essentials is scheduled for tomorrow morning, April 11. To learn more about the pet products and services they offer, call 515-289-2006, email bob(at)wholesomepetessentials(dot)com or visit wholesomepetessentials.com.
###
About Wholesome Pet Essentials
Wholesome Pet Essentials is a brand new pet supply, nutrition and grooming store located in Ankeny, Iowa. It features a holistic approach to pet care with personalized services to keep four-legged friends healthy. Wholesome Pet Essentials selects manufacturers that use only safe and wholesome ingredients. Their products are created under the highest quality standards and are the safest nature can provide. To learn more, visit wholesomepetessentials.com.
About Guidant Financial
Guidant Financial helps people create the life they want through innovative small business financing. They are the premier provider of rollovers for business start-ups (ROBS). Guidant's services allow people from all walks of life the freedom to purchase small businesses and franchises using their retirement funds without taking a taxable distribution or getting a loan, in addition to offering traditional funding options such as SBA loans, portfolio loans and unsecured credit. Visit Guidant on the Web at guidantfinancial.com.