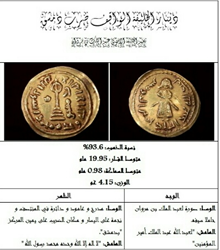 Never fail, never succeed.
(PRWEB) April 10, 2015
In a new article, rare coins collector Yazan Eltal examines Caliph Abd Al-Malik bin Marwan's attempt to use the standing caliph dinar as a promissory note in the 7th century. According to Eltal, this attempt by the 5th Umayyad Caliph makes the dinar one of the first-ever promissory notes.
To make a convenient currency that would simplify trade and money transfer, as well as enhance the economy, the Caliph began to issue the standing caliph dinar. However, the actual value of the 4.25g gold coins was greater than the value that they represented. To account for the disparity, Abd Al-Malik promised that the extra virtual value would be guaranteed by the Caliphate.
"This was, in effect, a promise to pay the bearer in coins by either gold or silver as per the corresponding value at the time of circulation, i.e., a promissory note," says Eltal in his article.
Eltal goes on to explain that the oldest promissory note was not able to be sustained; it was discontinued after a short period, making it the rarest Umayyad coin. "The Standing Caliph Dinar was canceled between 76AH-77AH (695-696) and that is the main reason behind the extreme rarity thereof," states Eltal.
The article also shares that the fact that standing caliph dinar coins were minted in Damascus was only recently discovered after an Umayyad gold coin with the city's name engraved on it was recovered. Until then, it was not known that there was a mint in Damascus. According to Eltal, the Standing Caliph Dinar coin is of the rarest and highest value due to its historical significance and rarity.
Although the promissory note did not last, Eltal compares the failure of the dinar as a revolutionary promissory note to the failure of Abbas ibn Firnas, an Andalusian inventor who made the first-ever flight attempt in history. "Never fail, never succeed," states the article. "Caliph Abd Al-Malik was a genius leader with a comprehensive view of leadership at the economic, social, and political levels who also attempted to make life easier with the standing caliph dinar."
The full article may be found here.
About Yazan Eltal
Yazan Eltal is a lawyer by profession, as well as a collector of rare coins with expertise in the Umayyad coinage. Mr. Eltal can be contacted by email at yaztal(at)me(dot)com or by phone at +962797730377.