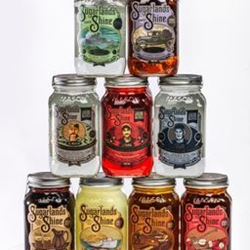 Louisville, Kentucky (PRWEB) April 07, 2015
Sugarlands Distilling Company, crafters of award winning Smoky Mountain moonshine, has partnered with Forecastle Festival in Louisville, KY to be the exclusive moonshine sponsor in 2015.
Sugarlands Distilling Company will be serving signature Sugarlands Shine Cocktails at multiple bars throughout the festival grounds and in VIP bar areas July 17-19.
Sugarlands Distilling Company will also have a bar on the Harbor Lawn, where they will serve a wide variety of Sugarlands Shine cocktails, engage with fans, and give away Sugarlands Distilling Company apparel.
Forecastle was founded in 2002 and has grown from a neighborhood event to one of the country's most anticipated summer festivals— drawing tens of thousands of fans from across the world to Louisville's scenic 85-acre Waterfront Park.
Since 2002, several well-known acts have graced the stages of Forecastle Festival, including: Beck, Outkast, Smashing Pumpkins, and The Avett Brothers.
Sam Smith, My Morning Jacket, Widespread Panic, and Modest Mouse will headline Forecastle Festival this year. Other notable artists include The Tallest Man on Earth, Gaslight Anthem, and Cold War Kids.
Sugarlands Distilling Company celebrates the combination of music and moonshine at their distillery in Gatlinburg, Tenn., where some of the nation's best Americana and bluegrass acts have performed on the distillery's Back Porch Stage.
Throughout the year, Sugarlands Distilling Company sponsors multiple festivals, including the Memphis in May International Festival, Suwanee Springfest, Floydfest and many more. Sugarlands Distilling Company strives to share their Sugarlands Shine with music, food, and drink enthusiasts everywhere.
About Sugarlands Distilling Company
Sugarlands Distilling Company is a producer of craft quality moonshine and whiskey and is also a popular attraction in downtown Gatlinburg, Tennessee. Inside the distillery, guests can taste free samples of authentic Sugarlands Shine, take a behind-the-scenes tour of the production, and purchase a variety of moonshine flavors, mountain merchandise, and apparel. To enhance their experience, guests can enjoy live music, Appalachian storytelling, and book outdoor adventure tours in the Sugarlands, an area of the Great Smoky Mountains National Park historically referred to as "moonshiners' paradise." The company is East Tennessee-owned, with a focus on bettering the local community through a variety of events and charitable giving. Sugarlands Distilling Company's phased strategic distribution strategy will be supported through a partnership with TAG USA, one of the most respected beverage marketing/sales organizations in the country. Sugarlands Shine is now available in fourteen states, including Tennessee.
###