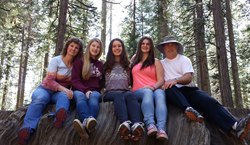 My stay here has expanded my horizons, and I feel really lucky to have experienced all the new, awesome and fun experiences with my lovely family and all the great people I got to know.
San Francisco, CA (PRWEB) April 07, 2015
Ayusa International, a non-profit organization that has promoted global learning and leadership through high school student cultural exchanges for more than 34 years, is kicking off its annual search for families in California interested in hosting international students for the 2015-2016 school year.
Ayusa is looking for host families throughout the entire state, specifically in and around:

Danville, San Ramon, Pleasanton
Rohnert Park, Cotati, Sebastopol
American Canyon, Brentwood
Arcata, Eureka, Fortuna, McKinleyville
Fresno/Clovis, Bakersfield
El Dorado, Placerville, Cameron Park, Pollock Pines
Karla and Brian Strock of Brentwood, along with their daughters Katie and Danielle, had been thinking about hosting a German high school student for about a year. They reviewed the eligible students and tried to find someone who seemed to match their family. "Sophie is friendly, confident and intelligent, and she goes with the flow as far as what our family is doing," said Karla. "Although Sophie does not have high school sports in Germany, she joined the tennis team here at Heritage High School and eventually played varsity, winning second team All-League in doubles," she continued. "She also spent some time cheering on her sister who way playing water polo." As a family, the Strocks took Sophie to Disneyland, Magic Mountain, Las Vegas, the beach, Muir Woods, San Francisco's Pier 39 and the Zoo, Big Trees State Park, a cave exploration trip, the Sierras, and college touring all over California.
"My stay here has expanded my horizons, and I feel really lucky to have experienced all the new, awesome and fun experiences with my lovely family and all the great people I got to know," Sophie reported. "I enjoyed every second of my stay, and I live by the motto: 'Don't cry because it's over, smile because it happened.'"
Ayusa works with diverse families who are interested in hosting an international student of high school age. Families without children, empty nesters, military families, retirees, and single people are all welcome. Ayusa families come from all 50 states and reside in rural, suburban and urban communities.
"California is one of the most popular destinations for Ayusa exchange students in the U.S.," said Cathy Galli-Vaneveld, Ayusa regional manager for the Western States. "Our students are excited about the possibility spending a year with a host family in the Golden State and visiting the Wild West," she continued. "Hosting an exchange student also allows families to learn about other countries and cultures, without the travel. If you've ever thought about sharing your California lifestyle with a student from abroad, I encourage you to give us a call, or check out our website to read the many stories of these international friendships that last a lifetime!"
Host families provide the exchange student with three meals a day and a bedroom (private or shared). A professionally trained Ayusa representative supports each host family, student, and local school throughout the program year. Ayusa's exchange students are 15-18 years old and come from more than 60 countries around the world. All students are fully insured, bring their own spending money and are proficient in English.
How to Host an International Student
Interested families can learn more about the program and available exchange students, and request additional information by visiting http://www.ayusa.org or calling 1-888-552-9872.
The process to apply is simple. Families complete the online application, which includes questions about themselves and local high school, references, and a background check. Once the application is submitted, the local Ayusa Community Representative will conduct an in-home interview. They can also help each family with any questions they may have about the application or process.
After families are fully approved, they can select the Ayusa student they would like to host.
About Ayusa
Ayusa International (http://www.ayusa.org) is a 501(c)3 non-profit student exchange organization founded in 1981 and an official U.S. Department of State designated Exchange Visitor Program Sponsor. In addition, Ayusa administers high profile grant programs funded by the U.S. Department of State and other organizations. Ayusa is a sister company of Intrax, a family of organizations that provides a lifetime of high-quality educational, work and volunteer programs that connect people and cultures. Intrax is headquartered in San Francisco with offices on four continents.