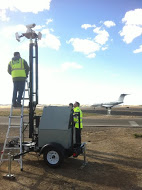 SpotterRF radar is now a proven component of our mobile sensor tower system
Boise, Idaho (PRWEB) April 07, 2015
Black Sage Technologies and SpotterRF today announced the successful test of a mobile, solar powered sensor tower that they deployed in less than an hour, securing more than 300 acres and a mile of perimeter at the Boise, Idaho airport. The system was then successfully tested in a variety of unannounced exercises to understand the system's wide area surveillance capabilities. For a whitepaper on the deployment, visit https://drive.google.com/open?id=0B-SPonfBEc3RTWZERjNRT2c5ZG8&authuser=0
To test the system, two individuals from Black Sage Technologies breached the perimeter fence with a ladder and entered airport grounds. The radar system rapidly detected the breach and its location. The sensor tower used this data to automatically cue cameras and alert airport staff with an audible alarm and email alerts--all within seconds.
"Our entire operations center was alerted to the breach test as soon as it began," states Bob Prahl, Airport Technology Administrator, Boise Airport. "I was amazed at how quickly and easily the system was set up, orientated and delivering video. The analytics took very little time to configure and within minutes, we were tracking objects in an otherwise remote area of the airfield."
"SpotterRF radar is now a proven component of our mobile sensor tower system," states Dave Romero for Black Sage Technologies. "This integration results in a cost-effective, secure solution for airports of all sizes. With its quick setup and tear down features, the tower's mobility enables coverage across a wider area for less money."
Black Sage Technologies' mobile sensor towers are rapidly deployed to efficiently monitor large areas for unauthorized moving objects. The system automatically tracks objects under varying weather conditions. Towers are deployed with a radar/camera combination. The operator sets up alarm zones. When an object enters the alarm zone, an audible alarm sounds and the camera is automatically directed toward the tracked object, e-mailing photos and capturing video. At any point the operator may take manual control of the cameras to investigate activity. The system tracks up to 20 radar targets simultaneously. In the event of multiple radar contacts in alarm zones, the camera cycles between targets. Wireless and solar power capabilities further enhance flexibility for the airport.
"Many of our nation's 80,000+ airports remain vulnerable to undetected perimeter breach," states SpotterRF CEO Logan Harris. "The SpotterRF mobile radar enables systems like Black Sage's sensor tower to provide a means to rapidly protect our nation's airports without the huge cost associated with trenching and planting poles in the ground. This makes radar/camera surveillance affordable for airports of any size."
SpotterRF will demonstrate the mobile nature of its Compact Surveillance Radar system at ISC WEST 2015 in Las Vegas on April 15 - 17, 2015 at the Sands Expo Center booth number 29089.
About SpotterRF
SpotterRF provides the world's most advanced and effective Compact Surveillance Radar (CSR) system for perimeter security and force protection. Made in the USA and engineered for extreme conditions, SpotterRF technology is the most compact, lightweight, energy efficient, and cost-effective radar for elite warfighters and critical infrastructure requirements. With the successful deployment of SpotterRF in wide-open, all-weather areas like Exxon's Alaska oil fields, Spotter radar expands the range at which perimeter intrusion is detected. SpotterRF radar protects electrical substations, vital dam systems, monitors harbor traffic, secures high traffic bridges, and national monuments. For a data sheet, visit https://spotterrf.com/commercial-products/.
About Black Sage Technologies
Black Sage Technologies provides mobile sensor towers that combine radar, video and 4G connectivity for security and safety. Designed for ruggedness, and self-contained power, Black Sage's mobile towers enable situational awareness in remote and off-grid locations.