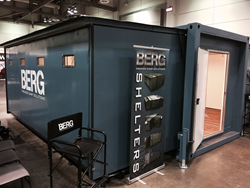 BERG is very excited to be expanding our expertise in camp solutions and to be providing great solutions for the commercial shelter and camp market.
Spokane, WA (PRWEB) April 07, 2015
BERG Co. unveiled its new military grade expandable shelter camp solution for the commercial mining, construction and exploration markets at the 2015 Ark-La-Tex Oilfield Expo in Shreveport, Louisiana on April 1 and 2. The EXP-Explorer's innovative design and unique structure made such a splash at the expo that attendees awarded it the "Best Heavy Equipment Display" award.
The 2015 Ark-La-Tex Oilfield Expo is the largest oil and gas trade show in the Arkansas-Louisiana-Texas region and is put on by Texas Classic Productions exclusively for companies, organizations and professionals in the oil and gas industry. Nearly 365 companies converged in 95,000 square feet of exhibit space in the Shreveport Convention Center to showcase the most innovative products and solutions for the oil and gas industry.
"We are humbled to have been selected to receive this award from among the best companies and organizations in our industry," said Bryce Ogle, Director of Commercial Sales at BERG. "This recognition is the positive response we hoped the industry would have once they experienced the new EXP-Explorer, commercial shelter unit. BERG is very excited to be expanding our expertise in camp solutions and to be providing great solutions for the commercial shelter and camp market."
BERG specializes in mobile camp solutions for all commercial construction, mining and exploration needs. The EXP-Explorer was designed with the needs of a flexible remote work site in mind. It can be deployed as a stand-alone unit or complexed together with vestibules, walkways and stacking accessories to create a fully-functional, remote camp. The modular design is platformed off a standard ISO shipping container for easy shipping and delivery to even the most remote site. Its wing walls allow for expansion of the unit, creating a living and working space that is three times larger than its shipping footprint.
Based on their 132 year history of developing the highest quality shelter solutions and premiere military camp solutions, BERG has created a flexible, efficient shelter solution for commercial sites that can house remote office sites, dormitories, bathrooms, machine shops, kitchen and dining rooms. The EXP-Explorer offers unlimited options for customers to customize the configuration of each unit and their entire camp. Not only is the EXP-Explorer fully customizable, it is also easy to ship, deploy, tear down and redeploy several times for those sites that require flexible, re-locatable shelters as the job progresses. The energy efficient design of the EXP-Explorer is best in its class and suitable for all climates, making it an ideal solution for remote sites all over the world.
For more information about the launch of BERG's new commercial camp solution, and how you can begin to customize your next remote job site with The EXP-Explorer, visit http://www.bergco.com/20ft-shelters.html.
----ENDS----
Media Contact:
Julie Tilleman, Vice President of Business Development
BERG, Co.
jtilleman(at)bergco(dot)com
(509) 624-8921
About Berg Co.
Berg has a deep-rooted history in providing remote camp solutions since 1883. Originally founded by Fredrick Oliver Berg in 1883, the F.O. Berg Company was known as a pioneer in the industry and a quality supplier of remote camp solutions. In 1889, Berg became firmly established as a major camp supplier due to the Great Spokane Fire, which destroyed most of the downtown area. In the aftermath of the fire, Berg tents sprang up all over the city and remained throughout the rebuilding process.
Over a century later, Berg maintains this legacy. Today we offer a comprehensive portfolio of products and services uniquely designed to meet the needs of remote camp customers around the world. Our suite of camp related products and services that are designed with the end user in mind. Our camp solutions are easily transportable, lightweight for ease of deployment, energy efficient and easily re-configurable.