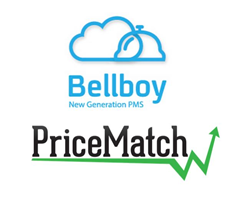 Tel Aviv, April 7th (PRWEB) April 07, 2015
Bellboy, the cloud-based Property Management System (PMS), is pleased to announce a partnership with Revenue Management System PriceMatch. With this new partnership, hotels using Bellboy, comprehensive hotel management system, will be able to access PriceMatch, a next-generation revenue management technology, directly from within their PMS.
Revenue Management Systems help hotels to monitor their demand, and maximize their RevPAR (Revenue Per Available Room) by giving them optimal price recommendations. Founded in 2012 by a team of young mathematicians and economists, PriceMatch offers the most innovative technology in the market in terms of demand forecasting and pricing.
The partnership between Bellboy and PriceMatch will allow hotels to benefit from this technology in the best conditions: direct integration in the PMS ensures a continuous and efficient flow of reservation data to the RMS module, which then takes into account external data - events, competitors prices etc. , and runs the algorithm to calculate the optimal price for every night and type of room. Once the recommendations have been approved by the hotel, pricing is then automatically updated in the PMS and directly distributed to all sales channels. .
"We are proud of integrating with Bellboy, an innovative and forward-looking company. With this integration, hoteliers working with Bellboy can receive PriceMatch recommendations, update their prices and seize revenue opportunities from wherever they are, and this directly through their cloud-based PMS. There is no doubt that the future belongs to this kind of cloud-based, integrated solutions," declared Arthur Waller, CEO of PriceMatch.
"Our vision is to provide hoteliers a comprehensive Hotel Management System, which includes the most innovative technologies out there, of which PriceMatch is a prominent one. Bellboy includes also BI models, Review Management -monitoring and distribution, Intelligent Guest Relationship Management to increase loyalty and to conduct sophisticated Cross/Up sells and connectivity to all hardware components of a "Smart" hotel. Our solution allows the hotel to avoid adding various add-ons, from multiple vendors," stated Moshe Matsliah, CEO of Bellboy.
***
About PriceMatch
PriceMatch provides an innovative and easy-to-use revenue management solution designed for both hotel managers and experienced revenue managers. Using big data and advanced econometric tools, the PriceMatch algorithm provides demand forecasts and pricing recommendations through an extremely user-friendly website. PriceMatch account managers and engineers guarantee every hotel personalized assistance to optimize their RevPAR.
For more information, visit
http://www.pricematch.travel/en/
About Bellboy
Bellboy is a comprehensive Hotel Management System that has defined a new approach to modern day hotel management. Intended for chains with up to 100 hotels, as well as for independent hotels, Bellboy is designed as a fully integrated solution that includes advanced modules. Bellboy innovative Property Management System (PMS) faces new-age hotel challenges head on, and does it all: maximizes revenue, personalizes services and standardizes processes. For more information, visit