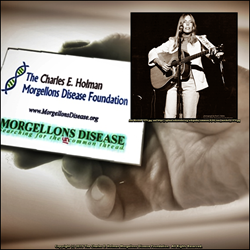 It is sad that Joni Mitchell's talent and health had to be place in jeopardy for the reality and facts of Morgellons to be in the spotlight.
Austin, TX (PRWEB) April 07, 2015
Joni Mitchell's emergency hospitalization last week has people talking about the controversial disease she has been reporting for years. Many in the medical community continue to think it is a delusional condition despite research funded by The Charles E. Holman Morgellons Disease Foundation (CEHMDF) that is published in peer-reviewed medical journals. (1)
Morgellons Disease (MD) is a multi-system illness uniquely characterized by the formation of unusual fibers within the skin. MD is a debilitating, and often misunderstood, condition consisting of slow-healing skin lesions, overwhelming fatigue, GI disturbances and an array of neurological deficits.
A growing list of scientific studies proves that Morgellons disease is real. (1) At the recent Morgellons Medical Conference in Austin, TX, scientists from around the world presented evidence substantiating Morgellons disease to be a true medical illness and identified bacterial pathogens involved. "These patients suffer from a miserable chronic illness, and the medical establishment's response is to kick them in the teeth," said Dr. Raphael Stricker, a San Francisco internist with over 100 Morgellons patients in his practice. "The sad part is that when these patients are treated properly, they can recover."
Microbiologist Marianne Middelveen from Canada presented study research data showing that the fibers in skin lesions from Morgellons patients are real. (2) "These are not clothing or textile fibers, but something made by the patient's own cells," said Middelveen. "In essence, the body is overproducing these weird fibers." (2)
Virginia Savely, DNP has treated approximately 800 patients with Morgellons and has studied it for over 13 years. She states, "Any doctor who calls Morgellons a psychiatric condition has clearly not looked carefully at the skin with 60-100x lighted magnification and seen the characteristic fibers woven below the outer surface of intact skin. These patients are sick with a painful, debilitating illness and diagnosing them as delusional is nothing less than malpractice. Morgellons is a very real infection that responds to antibiotic treatment."
The publicity surrounding Morgellons has dimmed since the 2012 CDC report. Theirs was a very preliminary effort to investigate this emerging infectious disease according to the CEHMDF. The $334,000 provided to the CDC by the US Government was an unfortunate waste of taxpayer dollars. As expected, the study offered no new insights and led many to believe the door was closed on this topic.
Close the door? The Holman Foundation along with thousands of suffering victims didn't think so. Even the CDC admitted ".... We were not able to conclude based on this study whether this unexplained dermopathy represents a new condition, as has been proposed by those who use the term Morgellons, or wider recognition of an existing condition such as delusional infestation, with which it shares a number of clinical and epidemiologic features [26–31]." (3) Recommendations from the often-ignored Report of the External Peer Review of CCID's Unexplained Dermopathy (UD) Project included these suggestions:"What should the priorities be in the future? … Physicians encountering patients who may have this condition should be encouraged to publish in a peer-reviewed medical journal a description of a carefully documented case. Photographs of fibers extruding from (or present within) normal intact skin, detailed histopathologic examination of biopsied skin specimens, and thorough analysis of the fibers will be especially helpful in clarifying several lingering questions.…" (3)
The CDC panel's suggestion to continue researching Morgellons and publish in peer-reviewed medical journals is exactly what the Holman Foundation has done and will continue to do. It is sad that Joni Mitchell's talent and health had to be place in jeopardy for the reality and facts of Morgellons to be in the spotlight. "Denial of Morgellons disease will go down in history as one of the most shameful acts of unethical conduct by our nation's health agencies and medical system." Cindy Casey-Holman, RN, Director of the CEHMDF.
About The Charles E. Holman Morgellons Disease Foundation
The Charles E. Holman Morgellons Disease Foundation is a 501©3 nonprofit committed to advocacy and philanthropy in the battle against MD. An all-volunteer organization based in Austin, TX, the Holman foundation is the singularly recognized authority on Morgellons disease and stands alone in funding scientific research of this condition. Executive Director Cindy Casey-Holman, RN leads the foundation, named for Charles E. Holman, a pioneer in the fight against MD. Currently, there exist neither grants, nor any other public or private funding sources to support research for this disease.
1. Thecehf.org,. 'Morgellons Disease Research | The CEHF'. N.p., 2015. Web. 7 Apr. 2015.
2. Middelveen, Marianne J et al. 'Exploring The Association Between Morgellons Disease And Lyme Disease: Identification Of Borrelia Burgdorferi In Morgellons Disease Patients'. BMC Dermatology 15.1 (2015): n. pag. Web. 7 Apr. 2015.
3. http://www.cdc.gov,.http://www.cdc.gov/unexplaineddermopathy/docs/external_peer_review.pdf - .N.p., 2015. Web. 7 Apr. 2015.
##