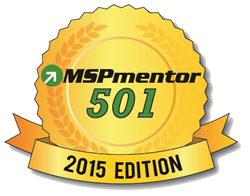 iland's performance in delivering hosted cloud and disaster recovery services earned the company a spot in the top ten percent of the MSPmentor 501 Global Edition.
HOUSTON (PRWEB) April 07, 2015
iland, an award-winning enterprise cloud infrastructure provider, has been recognized on Penton Technology's eighth-annual MSPmentor 501 Global Edition, a distinguished list and report identifying the world's top 501 managed service providers (MSPs). iland's performance in delivering hosted cloud and disaster recovery services earned the company a spot in the top ten percent of the list.
"The sheer number of service providers popping up on the market can make it difficult to choose a partner that will best fit the needs of your company both today and in the future," said Brian Ussher, president and co-founder of iland. "Rooted in our 20 years of experience in this domain, we continue to invest in forward thinking innovations like our self-service enterprise cloud portal, and we have the lasting customer relationships, technological expertise and industry validation necessary to stand apart from the pack. Our inclusion within the top 50 providers worldwide on the MSPmentor 501 list further confirms this."
Each year, MSPmentor gathers information for its annual rankings through the participation of managed service providers and IT service providers in our annual survey. Rankings are based on Penton Technology's unique criteria for MSPs such as annual recurring revenues, total revenues and more.
"We want to congratulate iland and look forward to covering their growth strategies in the year ahead," said Marcia Parker, executive director, Penton Technology Group.
iland's proven Enterprise Cloud Services (ECS) and Disaster Recovery as a Service enable customers to:

Jumpstart cloud initiatives for production, testing, development and business continuity initiatives
Expand and scale global cloud footprints across datacenters in the U.S., U.K. and Singapore
Manage and analyze global cloud operations, spend and recovery from a single interface that delivers unmatched visibility into performance
Satisfy requirements for complex use cases that involve a mix of cloud, colocation and bare metal
Leverage Cisco Intercloud Fabric to speed hybrid cloud deployments directly from on-premise data centers into iland's cloud, on demand and with consistent network and security policies
Simplify and expedite compliance considerations
Focus on innovation and strategic goals by relying on iland to alleviate technical burdens
This year the top MSPmentor 501 companies recorded higher recurring revenues than ever before. Combined, the total annual recurring revenues for all of MSPmentor 501 2015 companies reached a record high of $3.95 billion in 2014, up 26.5% year over year.
"Thank you to all the companies who participated in this year's MSPmentor 501 survey, and congratulations to the companies that ranked on our 501 list, our regional lists and our Small Business list," said Jessica Davis, editor in chief of MSPmentor and executive editor at Penton Technology. "Your participation enables us to continue to provide you with high quality information about the most successful business models, pricing, vertical markets and other approaches to running your businesses in 2015 and beyond."
iland is ranked as a leader in Forrester Research, Inc.'s report entitled, "The Forrester Wave™: Disaster-Recovery-As-A-Service Providers, Q1 2014." Forrester refers to iland as "the dark horse champion" in the report. In the research firm's evaluation, iland received the highest scores possible for its core DRaaS offerings, recovery objective capabilities, platform and application support, data resiliency and risk mitigation, security, value proposition and vision, as well as pricing, service levels and contract terms.
For more information on iland's enterprise cloud and disaster recovery services, go to:

About iland
With data centers in the U.S., U.K. and Singapore, iland delivers proven enterprise cloud solutions that help companies do business faster, smarter and more flexibly. Unlike any other provider, iland's technology and consultative approach mean anyone–regardless of expertise, location or business objective–can experience the benefits of a hassle-free cloud. From scaling production workloads, to supporting testing and development, to disaster recovery, iland's secure cloud and decades of experience translate into unmatched service. Underscoring the strength of its platform, the company has been recognized as VMware's Service Provider Partner of the Year, Global and Americas; is part of the Cisco Cloud Managed Service Provider Program for IaaS and DRaaS; and partners with other industry leaders including Zerto and Veeam. Visit http://www.iland.com.
About Penton
Penton drives performance for more than 16 million professionals each and every day. They rely on us to deliver: Insights, information & workflow tools to inform critical business decisions; networking & community to engage them with industry peers & partners; and data & marketing services to advance their business performance & deliver ROI.
Penton is a growth company with a track record of strong performance and success and is backed by its co-owners: MidOcean Partners and U.S. Equity Partners II, an investment fund sponsored by Wasserstein & Co., LP.
For additional information on the company and its businesses, visit http://www.penton.com.
Trademarks
All registered trademarks and other trademarks belong to their respective owners.
# # #