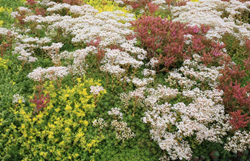 First Tennessee Park's inclusion of a visible green roof is a demonstration of the city's commitment to sustainability...
Nashville, TN (PRWEB) April 07, 2015
As Nashville Sounds baseball fans eagerly await the famous words "Play Ball," construction crews are putting the finishing touches, including a green roof feature, on the new First Tennessee Park. The state-of-the-art ballpark is slated to open for Mayor Karl Dean's first pitch on April 17.
The First Tennessee Park is part of a mixed-use development in the Sulphur Dell area – once the home to the first professional baseball team in Nashville, the Elite Giants, and several minor league teams.
As part of the city's newest venue, Mayor Karl Dean wanted to showcase the best of current sustainability infrastructure. A new greenway will offer easy pedestrian access and enhance the ballpark's park-like feel. While it will not be accessible to ballpark fans and guests, it will be visible.
Landscape Architect Bram Barth, of Lose & Associates, designed the project. The planted roof will contain primarily drought tolerant and hardy Sedum, a type of low-growing succulents. Baker Roofing installed the 1500 square foot green roof, along with 220 square feet of natural-colored pavers to serve as a maintenance path.
Green roofs provide nature function and beauty. A patented, subterranean modular system unites the soil and plants creating a naturally beautiful meadow-like aesthetic. The roofs provide aesthetic, environmental and social benefits.
Financial benefits can also be achieved from a vegetative roof including: extension of roof life, energy conservation, enhanced public relations, and conservation of municipal septic systems.
PHOTOGRAPHERS/VIDEOGRAPHERS WELCOME –
Installing right now.
About LiveRoof® Global, LLC
LiveRoof Global, LLC (http://www.liveroof.com) is the horticultural science company that developed the LiveRoof® Hybrid System, whose natural function and natural beauty offer the highest level of green roof performance at the lowest level acquisition-installation-maturation-maintenance costs. Combining the best elements of proven green roof technologies, LiveRoof establishes a seamless vegetative surface rooted in a continuous layer of soil. This design maximizes environmental benefits, energy savings and rooftop aesthetics. Regional growers in its global network adapt LiveRoof plants for local conditions and customize plant selection for every project. The proof is on the roof showcased in LiveRoof projects that stand out as signature elements on commercial, public, university and school buildings throughout the globe.
Media Contact:
Amber Poncé, GRP
Business Development Manager
LiveRoof Global, LLC
616.935.1964
http://www.liveroof.com
About First Tennessee Park
First Tennessee Park, slated to open in time for the 2015 season, marks a return to the area where Sulphur Dell Park once stood. Sulphur Dell hosted historic Minor League Baseball teams from the 19th century through 1963, including a six-decade run as the home of the Southern Association's Nashville Vols.
First Tennessee Park will be home to the Triple A Nashville Sounds of the Pacific Coast League. Minor League Baseball returned to Nashville in 1978, when the Sounds -- named for the sound associated with the city's famous country music scene -- played their inaugural season at south Nashville's Greer Stadium.
The Sounds spent their first 37 seasons playing baseball at Greer Stadium. Construction remains apace on the next chapter in the city's Sulphur Dell baseball saga.
(Courtesy MiLB.com)
Media Contact:
Metropolitan Sports Authority
730 2nd Avenue South
Suite 103
Nashville, TN 37210
615.880.1021