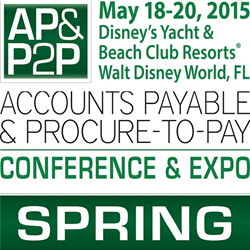 The AP & P2P Conference & Expo is an excellent option for maintaining cert, especially for those AP professionals with hectic schedules. With just three days out of the office, cert holders can maintain their status for another year
Portland, ME (PRWEB) April 07, 2015
The AP Network (TAPN)'s Accounts Payable & Procure-To-Pay Conference & Expo, taking place May 18-20, 2015 at Disney's Yacht & Beach Club Resorts ® FL, offers AP certification holders an opportunity to earn a year's worth of continuing education credits within three days' time. Per TAPN's certification regulations, participants in the program must accumulate 15 credits (CEUs) per year.
As a TAPN-produced event, the AP & P2P Conference & Expo's continuing education credits are applicable to holders of Accounts Payable Specialist (APS), Accounts Payable Manager (APM), and Certified Payment Reporting Specialist (CPRS/1099) certifications. The conference alone is worth a total of 13 CEUs, with an option to add on workshops and additional certification courses for 3 CEUs each.
"TAPN is at the forefront of AP's constantly changing regulations and technology. We believe our certification holders should be in the same position – hence our mandatory standard for all certification holders to receive continuing education credits after they've achieved certification," said Brian Cuthbert, Executive Director of TAPN. "However, we also believe that, being the world's largest AP-focused organization, TAPN must provide countless opportunities to make it happen. The AP & P2P Conference & Expo is an excellent option for maintaining cert, especially for those AP professionals with hectic schedules. With just three days out of the office, cert holders can maintain their status for another year," he added.
The AP & P2P Conference & Expo also offers attendees the opportunity to become certified for the first time on-site. Certification offerings can be found at http://iofm.com/agenda/certifications.
For more information about maintaining AP certification, please contact TAPN at 207.842.5557 or visit http://www.theaccountspayablenetwork.com.
About TAPN
The AP Network is the largest global community for Accounts Payable, Procure-to-Pay and Financial Shared Services practitioners. TAPN advances the profession and supports its members' success by sharing best practices, tools, and expertise and by fostering peer-to-peer engagement.
The AP Network is one of three membership network within the Institute of Finance and Management (IOFM). IOFM oversees five certification programs which have trained more than 15,000 financial operations professionals worldwide. IOFM's three membership networks (The AP Network, The AR Network and The Controllers Network) feature industry research, benchmarking data, metrics, case studies, tools and other critical compliance resources. The Institute also produces on-demand e-learning resources and industry-leading conferences dedicated to AP, AR and Controllers. With growing certification and membership programs and a keen understanding of the issues and content critical to the profession, IOFM is the trusted source of information in the rapidly evolving field of financial operations.