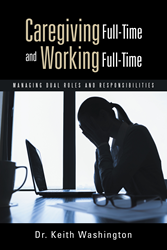 the cost of caregiving goes far beyond the medical bills
CHICAGO (PRWEB) April 08, 2015
The unexpected costs, both emotionally and physically, of caregiving for a loved one with a disease often reach beyond home life to work life. According to the National Center on Caregiving, 70% of working caregivers suffer work-related difficulties and many lose wages, health insurance and retirement savings, among other career benefits.
The dual pressures from caregiving and maintaining an active career presence can lead to a loss of productivity and overall stress. Former Alzheimer's caregiver and current business manager Dr. Keith Washington understands this complex role of a full-time working caregiver.
Washington, who cared for his parents when his father was diagnosed with Alzheimer's in 2005, was forced to make tough decisions regarding his professional goals and his personal responsibilities to family. Faced with balancing the demands of those two worlds, he came to realize that the cost of caregiving goes far beyond the medical bills.
"Many professionals, myself included, have had to sacrifice promotions or continued education opportunities because of the significant time that is required in caregiving," Washington said. "The financial challenges associated with providing Alzheimer's patient care are staggering, whether the patient is in an institution or at home."
His new book, "Caregiving Full-Time and Working Full-Time," sheds light on the pressures and impacts of these positions, as well as explores the options available to caregivers from family members, the government or employers. Combining personal experience with academic research and studies, Washington provides an in-depth look at the problems surrounding today's caregivers.
For more information, visit http://www.caregivingfulltimeworkingfulltime.com.
"Caregiving Full-Time and Working Full-Time"
By Dr. Keith Washington
ISBN: 9781490856636
Available in softcover, hardcover, e-book
Available on Amazon, Barnes & Noble and WestBowPress
About the author
Dr. Keith Washington has held a series of leadership roles in Fortune 100 companies, including GE Healthcare, IBM and the United States government. He serves on the staff of two non-profit educational organizations and is devoted to adult education. Washington holds degrees from Roosevelt University Chicago and has a doctorate in organizational management from the University of Phoenix. He currently lives in Hinsdale, Illinois.
# # #