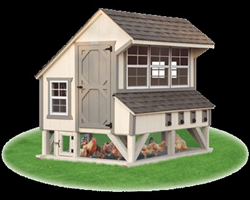 Hegins, PA (PRWEB) April 07, 2015
A healthy eating plan concentrates on foods in their purist natural forms, such as organically raised chickens and eggs. Eating organic foods and products can help limit the exposure to pesticides and chemical-based fertilizers. Raising backyard chickens is cleaner and more environmentally friendly than production chicken farming. Choosing home raised chickens and eggs that do not contain antibiotics are changes to anyone's lifestyle that can result in life-lengthening health benefits. Everyone should be concerned about where food comes from, how it's been raised and what it's been fed.
If a healthier diet of organic chicken and fresh eggs is desired, but walking into the grocery store is overwhelming with all the different food labels on display, maybe it's time to start to raise a flock of chickens. Chicken Coop Condo has a selection of well designed, quality products to help begin a self-sufficient lifestyle by housing egg laying chickens in the back yard. Chicken Coops Condo's coops are strong and sturdy enough to stand up against unfavorable weather such as summer winds or winter snowstorms. The coops are designed to provide chickens with the right balance between enclosed shelter and open ventilation. They are easy to clean and budget-friendly to maintain.
There are many benefits to raising chickens. The end results are inexpensive and nutritious fresh eggs. There is no denying that they are healthier alternatives to production farmed products. It will be for certain that the food is organic and free from pesticides and chemicals. Free range chickens will also keep the customers' garden safe from bug infestations without the use of poisons by positioning the chicken coop condo in close proximity to a flower or vegetable garden. Chickens produce chemical-free, nitrogen-rich manure that is great for the plants when mixed with compost, and also provides chemical-free weed control.
Visit the Chicken Coop Condo website at http://www.chickencoopcondo.com to see the quality of chicken coop products.