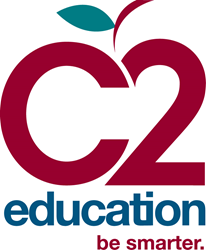 Atlanta, Georgia (PRWEB) April 09, 2015
C2 Education (C2) the country's fastest growing network of subject tutoring and SAT ®, ACT®, and PSAT® test prep centers will be participating in college fairs hosted by the National Association for College Admissions Counseling (NACAC).
The NACAC is an organization of more than 14,000 professionals that are dedicated to assisting students with their postsecondary educational choices. The organization offers multiple resources to parents, students and educators. Among the many popular resources are college fairs. The fairs are hosted throughout the country and allow parents and students to meet one-on-one with educational professionals. They are free and open to the public; attendees have the opportunity to interact with college representatives and other professionals on subjects ranging from SAT prep to admissions to financial aid.
C2 Education will be exhibiting at many NACAC fairs between April and May. The company will administer free practice tests for the new SAT; visiting students will also be eligible for a chance to win a C2 scholarship for 16 hours of free tutoring. Below is a list of the NACAC college fairs C2 will be attending. To learn more about C2 and how they can help students achieve their academic potential visit the company's website at http://www.c2educate.com.
April 20, 2015
Ventura County Fair Grounds
nacacnet.org/ventura-tri-county
April 22, 2015
Ontario Convention Center
nacacnet.org/inland-empire
April 22, 2015 & April 23, 2015
Meadowlands Exposition Center at Harmon Meadow
nacacnet.org/new-jersey
April 26, 2015
Anaheim Convention Center
nacacnet.org/orange-county
April 30, 2015
Pasadena Convention Center
nacacnet.org/los-angeles
May 02, 2015
Cow Palace Arena
nacacnet.org/san-francisco
About C2 Education
C2 Education was founded in 1997 by David Kim and Jim Narangajavana, two Harvard students offering private tutoring programs from their dorm room. In 2000, C2 opened their first location in Maryland. As of 2014, the company has grown to over 150 centers nationwide, and will double the number of centers in the next three years. C2 serves over 12,000 students and their families each week. C2 is one of the premier SAT/ACT test prep and subject tutoring companies in the U.S., providing expertise with trained and often multilingual tutoring staff as well as customized curriculum. C2 was the first test prep provider to write and publish student workbooks for the new SAT.
Media Contact:
Hillary Zody
Email: press(at)c2educate(dot)com
Phone: 678-352-7105/770-298-5033
###