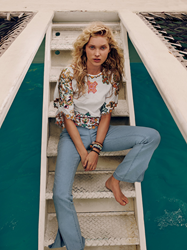 "Our Bridgewater customer will no longer have to travel to stock up on Free People. Once the store opens, local fans can look forward to a continual fresh assortment of our unique specialty pieces."
Philadelphia, PA (PRWEB) April 08, 2015
Specialty fashion brand, Free People, will open its 106th boutique across the United States and Canada on April, 24th 2015. The boutique will open at Bridgewater New Jersey's premier shopping destination, Bridgewater Commons. Housed in a 2,375 square-foot retail space, Free People's brand will bring an exciting mix of its coveted eclectic apparel to the shopping mall. Centrally located near the intersection of five major highways, the location will be Free People's fifth in the state of New Jersey.
New Jersey has proven to be a healthy and growing market for Free People as it continues to expand its presence in the state. The brand currently operates boutiques in Shorthills, Shrewsbury, Woodcliff Lake, as well as Paramus, where it opened its first location in the fall of 2002. As local fans continue to increase their demand for the brand's coveted styles, the retailer has gone forward to open its doors at Bridgewater Commons, the largest shopping destination in the affluent market area of Somerset and Hunterdon Counties.
"It's exciting to look back at when we opened our first boutique in Paramus, New Jersey over 10 years ago and where we are today at over 100 stores," says Free People's Director of Retail, Beth Wehagen. "Our Bridgewater customer will no longer have to travel to stock up on Free People. Once the store opens, local fans can look forward to a continual fresh assortment of our unique specialty pieces."
The new boutique will be designed in the brand's 'Black Smith's Cottage' concept, highlighting the more rugged side of the Free People girl. The space will feel like her personal workshop with a mix of rugged elements and feminine details throughout. Guests are welcomed by a blackened steel storefront and custom double doors adorned with natural brick pavers and sawn wood slat cladding. Inside, the space is delineated with a varied ceiling that changes in height and material throughout, including reclaimed hemlock and rough sawn wood beams. Interior finishes include repurposed white washed beadboard, reclaimed wide plank wood flooring, and mica plaster throughout. Yarn-filled cubbies add a bright array of color behind the cash wrap.
At opening, the new boutique will be ready for summer with a sales floor of well-stocked dresses and cut-off shorts for warmer weather and festival season. Featuring a modern twist on the brand's traditional festival trend, customers can expect an assortment of print, embellished, and embroidered items across all classes including accessories. A "wash shop" will feature Free People's newest relaxed basics in camis, dresses, slips, and denim in the brand's most turbulent dyes and faded wash techniques. The color white will have a moment, featured in every style from jeans to jackets to tanks.
The boutique will celebrate on opening day, April 24th, from 6-8pm. The first 50 customers to arrive will receive a tote bag giveaway. Light refreshments will be served and store stylists will be on hand to give in-store styling sessions. Guests should RSVP on Facebook: http://www.facebook.com/events/949888638364113/
Each Free People store offers personalized shopping experiences from a team of expert stylists. Customers can schedule a one-on-one appointment with their favorite stylist, as well as interact and gain inspiration through the brand's online Style Community, FP Me. In addition to offering personal styling, Bridgewater fans can look forward to a variety of in-store events to be hosted at the Free People Bridgewater Commons boutique throughout the year.
Free People Bridgewater will be located at Bridgewater Commons, 400 Commons Way, Suite #232 , Bridgewater, New Jersey 08807. Store hours will run Monday-Saturday 10am-9pm, and Sunday 11am-6pm. Fans should follow along on Instagram to stay up to date on all the latest arrivals, events, and other happenings: instagram.com/FreePeopleBridgewater/
For more information, images, to request an interview, or to discuss a TV opportunity, please call Sarah Santos at 215-454-7224 or email ssantos(at)freepeople(dot)com.
###
About Free People
Free People is a specialty clothing brand featuring the latest trends and vintage collections for women who live free through fashion, art, music, and travel. The eclectic look consists of quality apparel, shoes, and accessories that invoke attributes of femininity, spirit, and creativity with its design. Free People is distributed globally via direct channels including the Free People Global site, the Free People UK site, and the Free People China site as well as specialty boutiques, top department stores, and the brand's free standing retail locations in the U.S. and Canada.
About Bridgewater Commons
Bridgewater Commons is owned and managed by General Growth Properties, Inc., an S&P 500 company focused exclusively on owning, managing, leasing, and redeveloping high-quality retail properties throughout the United States. GGP is headquartered in Chicago, Illinois, and publicly traded on the NYSE under the symbol GGP.