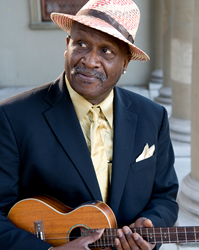 Fairfield, CT (PRWEB) April 07, 2015
The Fairfield Theatre Company welcomes back Grammy Award winner, composer, multi-instrumentalist and vocalist Taj Mahal to the intimate StageOne venue at 7:30 p.m. on Thursday, April 16.
One of the most prominent and influential figures in late 20th century blues and roots music, Taj Mahal's career began more than four decades ago. Mahal has broadened his artistic scope over the years to include music that represents virtually every corner of the world from West Africa, the Caribbean and Latin America to Europe, the Hawaiian Islands and so much more. What ties it all together is Mahal's insatiable interest in musical discovery. Over the past four decades, Mahal's passion and curiosity have led him around the world resulting in a global perspective that is reflected in the music he performs night after night.
Born Henry St. Claire Fredericks in Harlem back in 1942, Mahal grew up in Springfield, Massachusetts. His father was a jazz pianist, composer and arranger of Caribbean descent and his mother, a gospel singing schoolteacher from South Carolina. Music was in his soul and blood. With his father's extensive record collection and a shortwave radio which brought sounds from near and far into the home, Mahal became hooked and took pride in his diverse ethnic and cultural tastes.
After only two weeks of piano lessons, Mahal discovered his stepfather's guitar and became serious about it in his early teens when a guitarist from North Carolina moved in next door and taught him the various legends of the day, including Muddy Waters, Lightnin' Hopkins, John Lee Hooker, Jimmy Reed, and other titans of the Delta and Chicago blues.
With such diverse musical background and musical experiences, it served as the bedrock for Mahal's first three recordings: "Taj Mahal" (1967), "The Natch'l Blues" (1968) and "Giant Step" (1969). Mahal draws on all the sounds and styles he absorbed as a child and a young adult, which continue to be the driving inspiration that is his hallmark signature sound today.
"The one thing I've always demanded of the records I've made is that they be danceable," he says. "This record is danceable, it's listenable, it has lots of different rhythms, it's accessible, it's all right in front of you. It's a lot of fun, and it represents where I am at this particular moment in my life. This record is just the beginning of another chapter, one that's going to be open to more music and more ideas. Even at the end of 40 years, in many ways my music is just getting started."
Coming back to StageOne for another must-see legendary performance, Mahal will be joined by Kester Smith (drums) and Bill Rich (bass), who will join the blues legend in a night of world class music that celebrates Mahal's four decades worth of material, including hit songs "Fishin' Blues," "Corinna," "She Caught the Katy," and countless others, including songs from his Grammy Award-winning albums "Senor Blues" and "Hula Blues."
So head down to Fairfield Theatre Company StageOne on April 16 and join FTC as they host this truly remarkable bluesman that will have those in attendance feeling as though the Taj Mahal Trio is playing right there in their very own living room. Nothing could be finer than that.
Taj Mahal Trio
Date: Thursday, April 16
Doors: 7 p.m.
Show: 7:30 p.m.
Venue: StageOne; 70 Sanford St., Fairfield, CT 06824
Tickets: $125 advance Member Discount: $30
Buy online: http://www.fairfieldtheatre.org
About the company:
Fairfield Theatre Company is a highly-acclaimed non-profit performing arts organization located in the heart of downtown Fairfield, Connecticut. FTC presents nearly 250 performances and concerts each year featuring outstanding national talent on FTC's StageOne in Fairfield, The Klein Auditorium in Bridgeport, and the Norwalk Concert Hall in Norwalk. FTC's intimate 200-seat StageOne concert venue is widely recognized as being one of the best places to see a live performance in the region. FTC is dedicated to providing the highest-quality arts, live entertainment and educational experiences to the communities it serves.