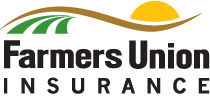 The slogan Simply Different is more than just a couple words, it's how we live, it's what we do, and how we perform, it's the promise that we make everyday.
Jamestown, ND (PRWEB) April 07, 2015
Farmers Union Insurance, based in Jamestown, ND, has long prided itself on doing things the old-fashioned way: developing relationships with their customers to make sure no questions are left unanswered. As part of the company's commitment to serving the people of North Dakota, Farmers Union Insurance has increased their staff and changed their positioning statement, in addition to offering a brand new service for agricultural clients.
Staffing changes include new hires, something that goes against the grain in the industry, according to Operations Manager Brad Nold. Farmers Union Insurance now has a total of 11 insurance adjusters, where before there were just six on staff.
"Now we have a representative within an hour and a half from every corner of the state, which no one else seems to be doing right now," Nold said. "Instead, larger companies are cutting their numbers back and just offering spot inspections and less adjusting staff."
As part of these new changes, Farmers Union Insurance has also switched out its positioning statement. The old slogan, "You're Never Alone," has been traded for a new statement, "Simply Different," to highlight the unique nature of Farmers Union Insurance when compared to the rest of the industry.
Nold explained that major national corporations, especially, look to cut costs and adjust staffing as a way of saving money. Farmers Union Insurance, however, has recently expanded their services to more closely meet the needs of their customers.
The company also developed a risk inspection program after crossing training there adjusting staff. The new Risk Specialist's positions are designed to help improve customers spot risks before a possible loss.
Nold explained that the risk inspection program includes a walk through the property with the client so the Risk Specialist can assess any potential threats or dangers. From there, the adjuster will help make recommendations to the client to help them mitigate certain risks.
In the event of a loss, the client will be handled by a company employed Risk Specialist.
Right now the risk inspection program only covers agricultural properties, but Nold said that the company hopes to expand their outreach to homeowner's risk in the future. Farmers Union Insurance offers policies that range from farm and ranch insurance in rural areas to homeowners and renters insurance in all locations across the state.
Although the program was implemented about a year ago, Farmers Union Insurance waited until 2015 to make the official announcement, said Nold. "We finally believe we've got the major kinks worked out, and we're settling into a routine rhythm to provide these services."
Nold explained that Farmers Union Insurance has garnered positive reviews from utterly shocked clients who didn't know their claims would be processed so quickly.
"We had a couple individuals who lost everything," Nold said, "and we were able to get a check in their hand the next day."
According to Nold, adding staff members will also decrease the turnaround time it takes for clients to get their hands on the money they are owed from damages. Kevin Ressler, Sales and Marketing Manager for Farmers Union Insurance, also commented on how pleased he and other staff members and agents are with this fast service.
"We consider this the best service in the industry," Ressler said. "We've got companies that we compete against who will take three to four days to contact someone who has a loss, and that's precious time lost and money that the client could have had in their pocket sooner.
"We're hoping that, as we continue down this path of engaging the customer in a way that we feel upholds our new position statement, that people will think of us as the go-to company for all their insurance questions and concerns," Ressler commented. "The slogan Simply Different is more than just a couple words, it's how we live, it's what we do, and how we perform, it's the promise that we make everyday."
About Farmers Union Insurance
Farmers Union Insurance, with the motto "Simply Different," offers numerous insurance services, including farm & ranch, homeowners, commercial, general liability, umbrella, and watercraft. As a mutual company, Farmers Union Mutual Insurance is both owned and governed by policyholders. To learn more, visit fumic.com