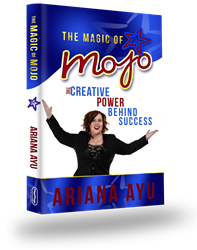 Mojo is the power of creation that stems from the very depths of each of our souls, infusing our lives with passion, purpose, and a magical sense of play.
Asheville, NC (PRWEB) April 08, 2015
Ariana Ayu is a writer, entrepreneur, and interpersonal expert. She often speaks, travels, and coaches businesses teaching her unique business strategies and approaches. Now she is collecting her business tips, strategies, and advice on living a healthy, happy life in one place—her new book, "The Magic of Mojo: The Creative Power Behind Success." Tate Publishing has announced the book's official release date will be May 5, 2015, after which "The Magic of Mojo" will be available via all major book retailers.
This book is designed with small business owners and entrepreneurs in mind. There are approximately 23 million small businesses in the United States, and they account for 54% of all United States sales. They also provided 66% of all new jobs since the 1970s. The number of small businesses is on the rise in the United States; numbers have increased 49% since 1982. (1) Clearly, small business success is important to the entrepreneur and for the overall economy. However, roughly half of all businesses fail within the first five years. (2) Common reasons that these businesses fail include lack of experience, the negative effects of competition, and low sales. (3) The ability to attract and keep customers affects each of these areas. Creative business planning, merchandising, and advertising are all vitally important for the survival of small businesses. Entrepreneurs need creativity and passion for their work if they are going to succeed.
This creativity and passion is what Ariana Ayu emphasizes in her new book. Passion is important for the success of small businesses. Take Jennifer Hyman, CEO and co-founder of Rent The Runway, for example. She emphasizes: "If you're passionate about something, go for it, because people are great at what they love and when they're the happiest."(4) Mark Cuban, a panelist on Shark Tank, echoes her sentiments: "It comes down to finding something you love to do and then just trying to be great at it."(5) Similar advice comes from Jeff Bezos, the Chairmen and CEO of Amazon: "One of the huge mistakes people make is that they try to force an interest on themselves. You don't choose your passions; your passions choose you."(6)
Ayu argues that if businesses are able to tap into their "Mojo," then they can be more effective entrepreneurs and generally enjoy life more. She explains, "Mojo is the power of creation that stems from the very depths of each of our souls, infusing our lives with passion, purpose, and a magical sense of play." This "secret recipe" of success will make people and customers want to work with the business and buy products and services. When entrepreneurs enjoy their work, it shows in virtually every aspect of their business.
Ayu's book provides a five-step approach for entrepreneurs to tap into their innate mojo on a regular and reliable basis. Being able to access their mojo regularly will help business owners rely on their built-in skills instead of luck or an absurd amount of hard work. As Ayu explains, tapping into your mojo regularly allows business owners to "no longer feel you have to rely on luck or a soul-crushing and relationship-ruining amount of hard work to succeed." Sheryl Rudd, the CEO of Heinzelmannchen Brewery, Inc., explains, "The old way to success was to put your head down, work hard, and power through any misery and drudgery you faced. No more! Ariana shows us how to have work success and personal satisfaction at the same time—powerful, practical, and solid advice on finding your mojo. Apply Ariana's knowledge and you'll have a heck of a lot more fun, not to mention success!"
Ariana addresses creativity, passion, happiness, and so much more in her new strategic guide to getting and keeping Business Mojo. Purchase your copy here: http://bit.ly/magicofmojo or from major book retailers on May 5, 2015.
---------
About Ariana Ayu -- Often called America's Mojo Maven, Ariana Ayu helps businesses grow and succeed with strategic consulting that brings more of their "IT factor" to life. She is a celebrated business and marketing strategist, interpersonal expert, international speaker, executive coach, and entrepreneur. Author of "The Magic of Mojo" series and the column "Business Mojo" on Inc.com, Ariana guides individuals on a step-by-step path to achieve both success and happiness – without sacrificing one for the other. Ariana was named Woman of the Year by the National Association of Professional Women and is an executive board member of the National Women's Political Caucus.
More info on Ariana Ayu can be found at http://www.Ayutopia.com.
(1) https://www.sba.gov
(2) http://www.washingtonpost.com/blogs/fact-checker/wp/2014/01/27/do-9-out-of-10-new-businesses-fail-as-rand-paul-claims/
(3) https://www.sba.gov
(4) http://www.huffingtonpost.com/2011/07/12/rent-the-runway-ceo_n_896480.html
(5) http://www.entrepreneur.com/article/242746
(6) http://www.forbes.com/sites/tanyaprive/2013/05/02/top-32-quotes-every-entrepreneur-should-live-by/