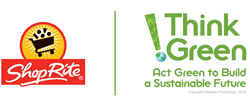 Keasbey, NJ (PRWEB) April 07, 2015
This Earth Month, ShopRite remains passionate about keeping its communities beautiful for generations to come. With this passion comes a commitment to sustainable business practices through the reduction of energy use, diversion of food waste and the sourcing of products from environmentally responsible suppliers, manufacturers and farmers.
But it is through a partnership with its customers that ShopRite truly helps to make a difference to protecting the environment. For years, ShopRite customers have teamed up with ShopRite to recycle waste, donate unsalable food to food banks and pantries, clean up parks and beaches and reuse their shopping bags at checkout.
Bag ReUse - ShopRite has promoted bag reuse for many years and continue to provide a broad assortment of reusable bags. In fact, in the last 7 years ShopRite customers have kept approximately 380 million bags out of landfills. This means less trash was sent to the landfills AND fewer resources were needed to create new bags.
Starting this Earth Month, the How2Recycle Label can also be found on ShopRite paper and plastic bags (see photo). Designed to remind ShopRite customers to recycle or reuse their bags, ShopRite makes it easy for customers to recycle these bags, along with other flexible plastic packaging including produce bags, bread bags, and case wraps, by providing recycling bins at the front of every store.
ShopRite Earth Day Challenge - Each year, the "ShopRite Earth Day Challenge" challenges volunteers to beautify their communities by cleaning up litter and restoring local parks and beaches. In 2014, approximately 6,000 volunteers – wearing donated gloves and using donated trash bags from ShopRite -- gathered to clean up 63 communities in Connecticut, Delaware, Maryland, New Jersey, New York, and Pennsylvania. Customers can join the ShopRite Earth Day Challenge this year to help keep their communities clean and green by calling 1-800-ShopRite or visiting ShopRite.com to register their group or organization.
Waste Reduction and Energy Conservation – Many ShopRite stores have received sustainability awards for their efforts toward reducing food waste and conserving energy. To date, three ShopRite stores in Pennsylvania and New York received the US EPA Green Chill award for reducing refrigeration emissions & 22 New Jersey stores received US EPA Food Recovery awards for feeding families and reducing food waste.
Green Teams – Many ShopRite stores have designated "Green Teams" onsite – a group of dedicated store associates committed to finding ways to donate food, conserving energy and water AND above all, greening up their communities.
Sustainable Seafood – In 2014, ShopRite announced its partnership with the Marine Stewardship Council (MSC) and Global Aquaculture Alliance (GAA) and is committed to working with suppliers who ensure that its wild-caught and farm-raised seafood is sourced from certified, sustainable fisheries and farms.
Recycling Center – Committed to keeping other materials out of the waste stream, ShopRite has had its own recycling center in Elizabeth, NJ since the 1970's. The facility, which operates 16 hours a day, six days a week, recycles plastic bags, shrink wrap and corrugated cardboard equally more than 1.8 MILLION TONS of materials to date!
About ShopRite
ShopRite is the registered trademark of Wakefern Food Corp., a retailer-owned cooperative based in Keasbey, NJ, and the largest supermarket cooperative in the United States. With more than 250 ShopRite supermarkets located throughout New Jersey, New York, Pennsylvania, Connecticut, Delaware and Maryland, ShopRite serves more than six million customers each week. A long-time supporter of key community efforts, ShopRite is dedicated to fighting hunger in the communities it serves. Through its ShopRite Partners In Caring program, ShopRite has donated $37 million to 1,700 worthy charities and food banks since the program began in 1999. As a title sponsor of the LPGA's ShopRite Classic, ShopRite has raised more than $27 million for local organizations, hospitals and community groups. Progressive Grocer named ShopRite its 2011 Retailer of the Year and Supermarket News awarded ShopRite its 2011 Retail Excellence Award. For more information, please visit http://www.ShopRite.com.