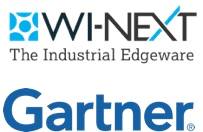 Wi-NEXT bundles communications, processing and storage into a single ecosystem that operates at the network's edge
Milan, Italy (PRWEB) April 08, 2015
Wi-NEXT, the emerging leader in industrial edge networking and computing devices (Industrial Edgeware) announced its inclusion in Gartner's Cool Vendors in Italy, 2015 report for what they believe is its innovative approach towards making enterprise communications and networking services more scalable, secure and reliable for the Industrial Internet of Things. Wi-NEXT is the leading pioneer in successfully bundling communications, processing and storage into a single ecosystem that operates at the network's edge
The Annual Cool Vendors report defines "Cool Vendor" as a company that provides technologies or solutions that are innovative, impactful and intriguing for businesses.
According to Gartner, endpoints of IoT will grow at 35.2% (CAGR) from 2013 through 2020 to reach an installed base of 25.0 billion units. [ii] Manufacturing is estimated to have the largest installed base of things by 2020. Furthermore, Gartner also believes that IoT requires a layered architecture in order to support "edge computing". Edge computing extends cloud computing by pushing computing, data, and services away from centralized nodes to the logical extremes of network. Services are hosted where they're used, at the network's edge or even at end devices such as set-top boxes or access points. [i]
Wi-NEXT is an Industrial Internet-of-Things (I-IoT) Company that provides an advanced Fog Computing architecture to resolve typical connectivity and processing hurdles by distributing computing power, storage, networking and analytics to the edge to optimize performance. Its industrial-grade WiseMESH® technology delivers immediate value to manufacturers by providing a reliable, agile, robust and secure network infrastructure scalable to handle the growing data streams of tomorrow's IoT, M2M and IoE applications.
The rapid growth of connected devices represents a transformative change for industrial manufacturing operations. Faster data collection at all stages of the production process allows for smarter decision making and drives immediate impact to the operations of an entire factory floor. Manufacturers that seek to benefit from this Digital Manufacturing Transformation will need to understand that the future of manufacturing is in the seamless integration between machinery, sensors and business processes.
"We are honored to have been selected as a "Cool Vendor" by Gartner. What we are witnessing is an emerging need for manufacturers to find an easier and cost effective way to connect millions of disconnected machines that are currently installed all over the world. They are 'invisible' to the network," said Nicola De Carne Founder and CEO of Wi-NEXT. "We consider our inclusion in Gartner's Cool Vendor report a validation of our continuous efforts and investments towards our mission which is, to provide next generation distributed edge intelligence to help companies network their machinery to optimize process and asset performance."
Click on this link to download the Gartner's Cool Vendors in Italy, 2015 report
About Wi-NEXT
Wi-NEXT is an Industrial IoT Company pioneer in Enterprise grade Wi-Fi mesh technology and distributed computing. Wi-NEXT helps industrial companies to reduce the complexity and costs to network their machineries to optimize processes and asset performance of the industrial plant. Wi-NEXT sells its patented networking and edgeware distributed FOG-computing solutions globally through value-added solution partners. For more information, please visit our website at http://www.wi-next.com or follow us on Twitter @winextcom
Cool Vendor Disclaimer
Gartner does not endorse any vendor, product or service depicted in its research publications, and does not advise technology users to select only those vendors with the highest ratings or other designation. Gartner research publications consist of the opinions of Gartner's research organization and should not be construed as statements of fact. Gartner disclaims all warranties, expressed or implied, with respect to this research, including any warranties of merchantability or fitness for a particular purpose.
[i] Gartner "Build Your Blueprint for the Internet of Things, Based on Five Architecture Styles" by Hung LeHong, September 24, 2014. - See more
[ii] Gartner "Market Trends: Differentiate Within Vertical Industries by Leveraging on Internet of Things Published: 17 December 2014" by Anurag Gupta, Kenneth F. Brant, Venecia K Liu and more , December 17, 2014. - See more
# # #