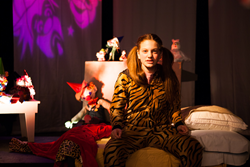 "These remarkable new plays are from some of the finest young playwrights this country is developing." - Julia Hansen, Theater Masters' Artistic Director
New York, NY (PRWEB) April 09, 2015
Aspen's acclaimed Theater Masters will present its ninth annual TAKE TEN: NATIONAL MFA PLAYWRIGHTS FESTIVAL an exciting, fast-paced evening of eight 10-minute plays from award-winning MFA graduate playwriting students from the top MFA programs in the country as part of its National MFA Playwrights Competition April 28th – May 2nd at The C.O.W. Theatre (21 Clinton St).
Acclaimed, veteran Broadway and TV/Film actress Kathleen Chalfant served as a guest adjudicator during the selection process along with Theater Masters' Artistic Director, Julia Hansen and Associate Artistic and Managing Director, Naomi McDougall Jones. Andrew Leynse, Artistic Director at Primary Stages, serves as the organization's Artistic Advisor. Directed by Margot Bordelon, Taylor Haven Holt, and Joseph Ward, the evening will feature 8 plays by MFA playwriting students at Columbia, Fordham/Primary Stages, Northwestern, UCLA, UCSD, University of Iowa, University of Texas at Austin, and Yale.
The 10-Minute Plays are:
DONNA'S FIRST BRAZILIAN by Lydia Blaisdell (University of Texas at Austin): A recent divorcee returns to the dating pool and treats herself to a wax.
OF OUR OWN by Matthew Capodicasa (Fordham/Primary Stages): Six years years ago, Theo disappeared, leaving Becky behind. After a chance encounter in the park, Becky and Theo walk through the spaces of their old life together, and face the impossibility of ever truly finding what's been lost.
OFF TACKLE GLIDE by Sean David DeMers (University of Iowa): Adam is being guided toward the NFL, but a chance encounter with a Catholic priest leads him to consider a different path.
NORDIC AMBITION by Phillip Howze (Yale): A suspended man comes face-to-face with the terror and hilarity of his mortality. As memory and language unhinge, can spectacle save us from the shame of American history?"
THE BATTLE OF CONEY ISLAND by David Jacobi (UCSD): Now in "People Heaven," Nicola Tesla and Thomas Edison deal with the repercussions of their life-long feud. An angry elephant may or may not show up.
LAODAMIAD by Chas Libretto (Columbia): Laodamia is the first wife to be widowed by the War in Troy. Can her father halt her spiraling descent into grief before it's too late?
TIME DIFFERENCE by Lin Tu (Northwestern): For the Chinese young couple Yuan and Fan separated from each other with one in the US and the other in China, time difference is not the only difference that awaits them.
ENGLISH LESSON by Paula Vesala (UCLA): A Finnish mother teaches her son English, and when they keep meeting an old Puerto Rican woman, the only native language they share is the language of loss.
Based in Aspen, Colorado, Theater Masters is dedicated to nurturing, developing, and producing or causing to be produced the work of the next generation of American playwrights. Since 2001, their goal is always to enhance audience understanding of, and support for, theater. Each year, Theater Masters hosts a national 10-minute playwriting competition among the MFA students at the top MFA playwriting programs in the country.
All performances of TAKE TEN at The C.O.W. Theatre (21 Clinton St) Tuesday, April 28th – Saturday, May 2nd are at 7:30PM. General Admission is $18. There will be a benefit dinner following the performance on Thursday, April 30th. For more information on the benefit dinner, please email theatermasters@gmail.com. For more information and to purchase tickets, visit https://www.eventbrite.com/e/take-ten-2015-national-mfa-playwrights-festival-nyc-tickets-16138777518