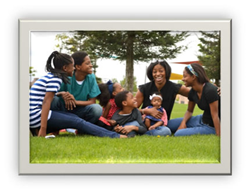 Black women have higher rates of depression and PTSD than white women. Come hear their stories.
Amarillo, Texas (PRWEB) April 13, 2015
The U.S. Centers for Disease Control recognizes April as Minority Health Awareness Month. The theme for this year's campaign is: 30 Years of Advancing Health Equity! The Heckler Report: A Force for Ending Health Disparities in America. Praeclarus Press consistently strives to create awareness and support education for healthcare issues related to this topic, and is excited to announce special online education opportunities are now available through the end of the month.
For the entire month of April, please enjoy a complimentary webinar, Depression is Black!, with presenter Jessica Walker. Walker addresses the various ways to cultivate a relationship with African American clients, learning strategies for working with clients and patients who come from another cultural background. Included is history of the African American community, how members specifically deal with stress, and how to incorporate that knowledge into effective treatment. Register online and use code "MHAMWebinar" upon checkout.
To learn more about breastfeeding in the African-American community, registrants can receive a discount for Uncovering The Power of #BlkBfing, presented by Jeanine Valrie Logan and Anayah Sangodele-Ayoka, authors of Free to Breastfeed. This presentation offers listeners ways to encourage discussion through their social media channels and contribute to the changing cultural perceptions of Black breastfeeding and healing within community settings. For Black breastfeeding mothers and breastfeeding allies alike, this webinar counters the message that Black women don't breastfeed and allows the identification of tangible ways to offer support and engage. To receive a 10% discount when registering online use code "MHAM2015" upon checkout.
The increasing need for professional development with regard to how to appropriately and adequately support same-sex families was presented in a Praeclarus Press webinar, Counseling LGBTQ Couples, in 2014 by Jaye Simpson IBCLC, RLC. Simpson specializes in LGBTQ Issues as they relate to lactation, parenting, cultural acceptance and gender neutral language. As part of this community, she has personal and professional experience with these issues and offers a unique perspective and insight to the LGBTQ world. To save 10% on this webinar use code "MNAM2015" upon checkout.
Praeclarus Press is a small press founded by Kathleen Kendall-Tackett, Ph.D., IBCLC, FAPA that specializes in women's health. It features books, webinars, and products that support women's health throughout their lifespan. Based in Amarillo, Texas, the mission of Praeclarus Press is to produce materials that change women's lives.