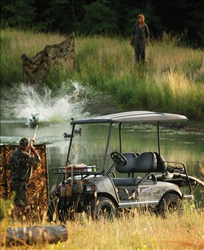 The Club Car XRT800 and XRT850 with the optional limited slip differential delivers true on-demand traction, without the driver having to manipulate locks or fight a steering wheel with a mind of its own.
Augusta, Ga. (PRWEB) April 16, 2015
Utility vehicles used in hunting or work applications often cover wet, hilly and rough terrain. But this can cause problems with traction and steering for many two-wheel drive models. It can also damage lawns when the vehicles are used on grass.
That's not the case with Club Car's new XRT850 utility vehicles. They are available from the factory with an optional automatic limited slip differential. Further, they feature quiet overhead cam engines with electronic fuel injection, something rarely found in compact UTVs.
"Our innovative differential improves hill-climbing ability, traction and control, especially in the woods, rough terrain or wet weather," says Consumer Marketing Manager Mary Sicard. "Add all-terrain tires and you've got a lifted vehicle with improved performance that can operate in areas that are not accessible with an open differential."
The automotive-style limited slip differential operates differently, and more effectively, than either locking or open differentials.
Vehicles with locking differentials lock up completely and damage turf. They can also lock at the wrong times. What's more, manual locking differentials require operators to pull a lever and lock the differential. "Yet you get stuck before you realize it," Sicard says.
Open differentials, on the other hand, are simpler in design and function than limited slip differentials. But when these vehicles get stuck, the power is transferred to the tire with the least traction, so the tire just keeps spinning.
On-demand Traction. Responsive Steering.
"Our limited slip differential delivers true on-demand traction, without the driver having to manipulate locks or fight a steering wheel with a mind of its own," says Sicard.
When driving in a straight line, the system operates like a locking differential. Both tires are receiving power for maximum traction. But once you start turning, the internal clutches allow the tires to turn at different speeds, so the driver maintains control of steering.
"With this system, you can wend your way around trees, across gullies, through mud and over pine straw, logs and other debris," Sicard says.
The system was engineered and tuned to work both on turf and off-road. It locks and unlocks in a fraction of a second.
Better Rear Traction. Better Hill-climbing.
"Since XRTs are mid- or rear-engine vehicles, most of the weight is on the rear tires. That means the back tires get more 'bite,' so they climb hills with ease. Having weight in the back of the vehicle – like a big buck – only increases this," Sicard says.
All this, coupled with a new best-in-class 14-hp Subaru EFI engine, makes the XRT850 ideal for hunting and chores. "And the vehicle is built on our rustproof AlumiCore™ frame and fits into the back of a pickup truck," Sicard says. It also carries the longest, strongest warranty in the industry.
Club Car vehicles are sold through Authorized Club Car Dealers. To find a dealer new you, visit [http://www.clubcardealer.com.
About Club Car
Club Car, one of the most respected names in the golf industry, is the world's largest manufacturer of small-wheel, zero-emissions electric vehicles. The company's Precedent® golf cars with the exclusive Visage™ Mobile Golf Information System, and Carryall® turf utility vehicles are integral to successful operations at thousands of courses around the world. The company also offers a complete line of new, remanufactured and used golf cars, XRT™ utility vehicles and street-legal, low speed vehicles (LSVs) for personal use, all backed by Club Car's 50+ year legacy of superior design, manufacture and service. Club Car is part of Ingersoll Rand, and is based in Augusta, Ga. Visit http://www.clubcar.com.