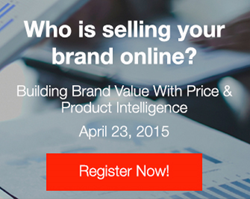 Ottawa, Canada (PRWEB) April 08, 2015
360pi, the leading provider of price and product intelligence for retailers and brands, today announced that Kevin Sterneckert, chief marketing officer for OrderDynamics and former Gartner research vice president, and Jenn Markey, vice president of marketing for 360pi, will present a webcast titled "Who is Selling Your Brand, At What Price?" on Thursday, April 23, 2 p.m. ET/11 a.m. PT.
The webcast focuses on the many new challenges and opportunities faced by brand manufacturers as more shoppers and categories go online. More specifically, the webcast uncovers the benefits of what real-time access to online retail pricing and product information gives brands, including the unprecedented ability to improve channel performance and loyalty, while also highlighting opportunities to protect and build brand value.
The webcast spotlights the key tactics and strategies today's leading brands need to be aware of and act on, in order to be successful online across all channels including:

Identifying unauthorized sellers;
Supporting authorized sellers;
Increasing share of digital shelf.
Click here to register for the webcast.
360brands helps FMCG (Fast Moving Consumer Goods) manufacturers monitor price, promotion and distribution of their brand. 360brands enables manufacturers to improve the performance and compliance of online channels, protect and grow brand equity, and minimize channel conflict.
About 360pi
360pi derives profitable insights from product and pricing big data to help leading omnichannel retailers, etailers, and brand manufacturers compete and win with shoppers. 360pi's customer base accounts for over $US200 billion in annual product sales and includes Ace Hardware, Build.com, and Overstock.com, along with several Fortune 500 consumer products companies. With the majority of in-store purchases being influenced online, 360pi helps retailers and brands successfully navigate the multi-channel landscape with real-time insight into who is selling what, where, and for how much. Ultimately, this lets 360pi customers make smarter decisions faster to drive increased revenues and margins across all channels.