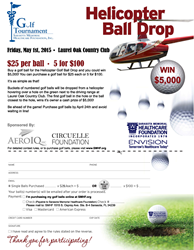 Joining forces with Sarasota Memorial Healthcare Foundation is important to us because it enables Circuelle Foundation to give back to our community, while also impacting and educating women in Sarasota about their own breast health
Sarasota, Fla. (PRWEB) April 07, 2015
Circuelle Foundation, a non-profit organization dedicated to breast health, is giving back to the community by supporting the 14th Annual Sarasota Memorial Healthcare Foundation Golf Tournament that will be held at Laurel Oak Country Club in Sarasota Friday, May 1, 2015.
Sarasota Memorial Healthcare Foundation is selling golf balls to golf tournament attendees and non-attendees for the opportunity to win $5,000. On tournament day, buckets of numbered golf balls will be dropped from a helicopter hovering over a hole on the green located near the driving range at Laurel Oak Country Club. The first golf ball(s) in the hole or the ball closest to the hole, wins it's owner a cash prize of $5,000. Golf balls can be purchased online at http://www.smhf.org.
"Joining forces with Sarasota Memorial Healthcare Foundation is important to us because it enables Circuelle Foundation to give back to our community, while also impacting and educating women in Sarasota about their own breast health," Melissa Kirkpatrick, founder of Circuelle Foundation explains. Circuelle Foundation's mission is to help educate and bring awareness to women about breast health while empowering them to embrace healthy rituals.
The event will be attended by area physicians and healthcare related companies.
About Circuelle™ Foundation: The Circuelle Foundation mission is to educate women about breast health and increase breast awareness through healthy rituals. Because it's never too early to be knowledgeable about breast health, Circuelle Foundation is organizing and funding breast self-exam programs for young women nationwide. Circuelle Foundation is also helping fund mammograms at select hospitals and radiology centers, making this essential screening available for free to women with limited financial resources. The programs are dedicated to help change the way future generations view breast health — A Beautiful Awareness™. http://www.CircuelleFoundation.org.