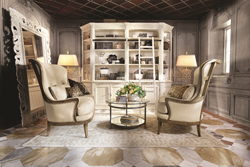 "I love it when my firm and I can source unexpected, beautifully made pieces that feel well-appointed…whether for a formal library, or a casual living space. Arhaus is so great for that," says Nate Berkus, Nate Berkus Associates in Chicago.
Cleveland, Ohio (PRWEB) April 10, 2015
Home furnishings retailer Arhaus, http://www.arhaus.com, introduces a new and improved program aimed at the trade. Renamed Trade Services from Designer Program, the new program is loaded with member offerings including discounts on everything from furniture to accessories and one-of-a-kind antiques and reproductions—in lieu of commissions previously paid based on sales—and in-store assistance from a dedicated associate.
"The commissions-driven structure proved not only to be limiting to us but as well as to the designer, and required a great deal of paperwork from both parties," says Skye Westcott, Vice President of Interior Design and New Business Development. Westcott was appointed to the position at Arhaus last year to develop and lead its trade business storewide—54 locations across the country to-date and an online ecommerce site. Previously Westcott held similar roles with like-home brands, including Lillian August, ABC Carpet & Home, Anthropologie and IKEA.
"We asked designers what they wanted from us as a partner and their response was a full service program with knowledgeable associates in-store to assist them from the beginning of a project to the end, and of course, discounts," says Westcott.
Moving forward, members of Arhaus' new trade program are no longer required to track and report sales to receive commission checks from the Cleveland-based retailer, but rather will receive discounts on purchases for client projects "among other perks," says Westcott. In addition to 40 percent off of regular priced furniture and 20 percent off of regular priced accessories, antiques and reproductions, Arhaus offers trade members a full suite of in-store services led by newly appointed regionally focused Trade Services Specialists.
Trade Services Specialists assist with everything from order placement, tracking and delivery to providing custom quotes and memo sampling. "The goal is to facilitate everything for the designer," says Westcott, "to ensure furnishings are ordered to their exact specifications and delivered for the install, and should any issues arise…be on-hand to take care of it."
"It's about more than the discount," says Ann Wisneiwski, AJW Designs, Inc. in Atlanta. "It's about having the ability to work with someone on the inside who has a design background. I can describe the project and what I'm looking for, but I need someone who understands me and who can direct me to specific looks."
The other member benefits referred to by Westcott, include:

A warranty on furniture purchases, plus the added support of Arhaus' client services department post-delivery
First-hand notifications of sales and promotions, as well as trade-only events and giveaways in stores and exclusive sneak peeks at new designs and collections
Acknowledgement of notable work on Arhaus' social channels and editorial "features" on the retailer's greenhaus blog: http://blog.arhaus.com
All of the changes to Arhaus' trade driven program combined prove successful. In just six months, the program has grown its membership by 40 percent and its roster includes celebrity designers like Nate Berkus. "I love it when my firm and I can source unexpected, beautifully made pieces that feel well-appointed…whether for a formal library, or a casual living space. Arhaus is so great for that," says Berkus, Nate Berkus Associates in Chicago.
To become a member of the Trade Services program, designers can apply in-store and online http://www.arhaus.com/corp/tradeservices/. "There's no fee to join," says Westcott. However, designers are required to provide copies of a business card, current business or state professional license and federal tax ID form, EIN number or resale certificate.
###
Arhaus: Arhaus offers a compelling, inspiration-filled environment—stores average 16,000+ sq. ft.—with one-of-a-kind handcrafted home furnishings reflective of a distinct global point-of-view. Arhaus collaborates with skilled artisans here in the states and all over the world who craft its many exclusive collections, which are complemented by timeless upholstered pieces (slipcovered, leather and custom-order seating), dining tables and chairs, bedroom, outdoor and office furniture, seasonally-inspired accessories, private label bedding, throws and accents, tableware and more. Made of the world's finest materials (with attention to sustainability), products are presented in dramatic lifestyle settings infused with original architectural elements imported from Parisian flea markets and Tuscan villas, hand-painted murals, Arhaus Revivals (repurposed antiques), and the freshest botanicals sourced locally in each store market. Arhaus is privately owned and operated. The national home furnishings retailer was founded in 1986 by father and son, Jack and John Reed, and is headquartered in Cleveland. For more information, call 866.427.4287 or visit http://www.arhaus.com.