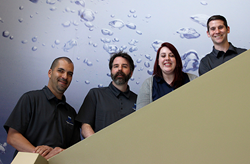 "We look forward to cleaning carpets and surfaces in homes and businesses in the Puget Sound area, and to provide great service!"
Seattle, Washington (PRWEB) April 09, 2015
The Northwest is all about green and it's about to become "greener" if Anthony Holmes has anything to do with it.
Anthony was the director of business operations for Seattle-based firm Callison Architecture, one of the largest architectural firms in the U.S., which was acquired by Dutch design giant Arcadis last year, and that opened the door for him to make a significant change in his career path. After an intense search for the right opportunity he choose to become a Regional Developer for Zerorez, a national franchisor for a patented "green" cleaning services business. "The opportunity to develop Zerorez in the Northwest is exciting. I am eager to provide our communities with a truly green solution for cleaning carpet, tile and other living surfaces with a patented process," said Anthony.
Anthony, a graduate from the University of Colorado, and his wife, Tatsuko, moved to Seattle from Denver 6 years ago. Anthony previously worked with Dri-Eaz in the restoration services industry and helped the company acquire Blueline Equipment, a top 5 producer of carpet cleaning truck mount equipment. That background helped him gain an appreciation for the uniqueness of the Zerorez patented process.
The ZEROREZ(R) concept was launched in 2001, based on its patented Empowered Water(TM) cleaning system. The founders wanted to fundamentally change the carpet and living surfaces cleaning industry. Their answer was a comprehensive process using Empowered Water(TM), which is electrolyzed and oxidized to create a powerful cleaning solution without harmful toxins, soaps or detergents. Their research found that other cleaning processes leave residue, which naturally attracts more dirt and bacteria, so they fail to truly provide a lasting clean. Developing the ZEROREZ(R) cleaning process resulted in Zero Residue(R), a key attraction for Anthony.
Anthony and his wife love living in the Northwest, so it was important to find a business they could own and operate locally. "We initially moved to Seattle for a new life adventure. I have family in the Portland area and already loved the Northwest. When we arrived in Seattle, we knew it was home. The proximity to the mountains, the water, and all the great neighborhoods sold us quickly. We love living here and are planning on raising our family in the area for years to come."
Anthony's business management and investment industry experience provides a strong background to lead the development of his own business. "My goals are to build a business in a way that supports my values and ethical business standards, to provide skilled and meaningful employment with fair living wages, and to conduct the business in a way that protects the environment and is safe for our kids and pets. My business philosophy is centered on providing great service. In this age of limited face-to-face interaction, the standard of customer service has suffered in lieu of speed and profit. Even if customers don't consciously think about service as a necessity, they recognize when they are getting bad service. My goal is to build a company completely focused on customer satisfaction, being knowledgeable about our services and being as helpful as possible. As the leader of a company, that means fostering a team-oriented environment where everyone feels valued, confident in their knowledge and responsibilities, and supported at all times."
According to Rick Arnold, Chief Operating Officer at Zerorez Franchising Systems, "We are delighted to have a great team come to the Puget Sound and pleased to have an even stronger presence in the Pacific Northwest, where we've operated successfully for years. We have wonderful franchise owners in Washington and Oregon and acknowledge the passion that our franchisees here and across the country have for providing a superior cleaning outcome and great service to our customers."
Anthony believes that Zerorez of Puget Sound will raise the standards of the carpet care and cleaning industry by using superior, environmentally friendly technology, exceptional service and well-trained technicians to help customers maintain truly clean and beautiful homes and businesses. Customers can learn more at http://www.zerorezpugetsound.com.
____________________________________________
Zerorez Franchising Systems, Inc., was founded in 2001, has corporate offices in metro Salt Lake City, UT, and has coast-to-coast operations in 25 states. In recognition of its cleaning efficacy, the Carpet and Rug Institute (CRI) has given Zerorez a Platinum Rating, the industry's highest Rating. See http://www.zerorez.com for more information and to contact the Corporate Office. Anthony Holmes can be contacted at: aholmes(at)zerorez(dot)com