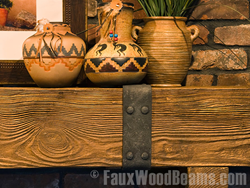 These rustic real wood mantels offer the beauty of reclaimed barn wood.
Deer Park, NY (PRWEB) April 08, 2015
FauxWoodBeams.com™ adds a beautiful new line of real wood mantels to match its line of real wood beams. Available in four elegant styles, these mantels provide a great way to add richness and depth to interior décor of all kinds.
"These rustic real wood mantels, like their matching beams, offer the beauty of reclaimed barn wood while making it easy for homeowners to bring the design elements of their home interiors together in a refreshing new way," said Steve Barron, president of FauxWoodBeams.com™.
Spanning traditional, modern, rustic and classic looks, the new mantel styles include Heavy Hand Hewn, Light Hand Hewn, Barn Board, and Wire Brushed. The mantels, along with the matching beams, are suitable for both residential and commercial settings and are available on the Faux Wood Beams website.
Each mantel style is also available in a variety of attractive color choices, including Charred Brown, Driftwood and Barn Red. This gives them a versatility for all range of design preferences and décor aesthetics. Even more, they come in a wide variety of sizing dimensions, so that getting a custom size for differing design requirements and preferences is easily accomplished. The result is an excellent design choice for living rooms, dens, great rooms and even kitchens.
These mantels are all made from second-growth cedar, a renewable resource from replanted trees. Made to mimic the appearance of reclaimed wood, each mantel is painstakingly crafted to match the color, texture and character of authentic barn wood as closely as possible.
Through a proprietary wood treatment process, a mineral-based treatment gives the wood a special reactive stain. As a result, the wood takes on a beautiful, weathered color characteristic of genuine reclaimed barn wood.
The added benefit of virgin wood is that it is less prone to warping, cracking, twisting and checking. Even better, you won't find any insects in this wood either.
"Up close and from a distance, it will be hard to believe these mantels aren't real reclaimed wood that's over 100 years old. It's quite remarkable," said Barron.
Real wood mantels are an easy way to add an old world look to interior designs.
About FauxWoodBeams.com
Faux Wood Beams is an industry leader for providing realistic polyurethane wood beams, ceiling panels and architectural items. Its products have been regularly featured on television shows such as "Bakery Boss," "Brothers on Call," "Celebrity Apprentice," and numerous appearances on "Extreme Makeover: Home Edition." FauxWoodBeams.com is a subsidiary of Barron Designs, Inc., a family-owned home improvement business operating since 1972. For more information, visit FauxWoodBeams.com