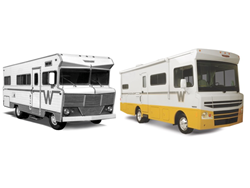 Our sales numbers are proving that retro is still cool. This is the iconic Winnebago mom and dad had- modernized. - Randy Potts, CEO, Winnebago Industries
(PRWEB) April 09, 2015
Though the days of Flower Power have long passed, Winnebago decided to revive its classic 1960's RV with features that incorporate the technologies of today. Perhaps the peace sign is now a thumbs-up as Winnebago has joined other companies that have proven that retro can still turn heads and open pocketbooks.
From Chuck Taylor shoes to Volkswagen's famous Beetle, Winnebago is capturing a new market by offering the timeless appeal of the past, coupled with the newest features of the present. With retro offerings trending among younger buyers, Winnebago research indicated that their original 1960's RV could still captivate customers in the right target markets.
"The Brave is a testament to both our rich history and bright future in the motorhome lifestyle. More importantly, our sales numbers are proving that retro is still cool," stated Randy Potts, CEO of Winnebago Industries. "The Winnebago has been re-imagined. This is the iconic Winnebago mom and dad had, modernized. The features truly speak for themselves."
The new Brave breathes new life into the celebrated design, giving drivers the opportunity to relive childhood memories. Beyond its stylish appearance, Winnebago's Brave is loaded with versatile floorplans— ideal for weekend getaways or extended trips. The Brave features a state-of-the-art sliding dash rearview monitor with Rand McNally RV GPS and a powered patio awning as well as Winnebago's StudioLoft bedding system for added sleeping space.
Winnebago's classic eyebrow design and "Flying W" sidewall logo earned the top award of the Recreation Vehicle Industry's 52nd Annual Trade Show. The Winnebago Brave and its sister, the Tribute, were given the prestigious title of "RV of the Year" by RV Business Magazine.
Winnebago offers a true sense of discovery and rediscovery with multigenerational appeal. The Brave and Tribute retail for $96,599 to $121,379 and are available in three 26- to 31-foot floorplans on a 362-hp, V10-powered Ford chassis.
About Winnebago Industries
Winnebago Industries, Inc., "The Most Recognized Name in Motor Homes®", is a leading U.S. manufacturer of recreation vehicles, which are used primarily in leisure travel and outdoor recreation activities. The Company builds quality motorhomes, travel trailers, fifth-wheel products, and transit buses. Winnebago Industries has received the Quality Circle Award from the Recreation Vehicle Dealers Association every year since 1996. The Company's common stock is listed on the New York and Chicago Stock Exchanges and traded under the symbol WGO. Options for the Company's common stock are traded on the Chicago Board Options Exchange. For access to Winnebago Industries' investor relations material or to add your name to an automatic email list for Company news releases, visit http://investor.wgo.net.