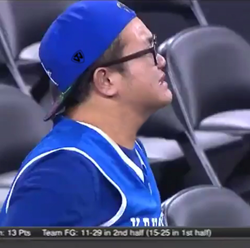 Norman, OK (PRWEB) April 07, 2015
Top of the World, a collegiate headwear supplier located in Norman, OK, has found itself in a position to drastically change the mood of one lucky Kentucky fan. Videos and images have been flying around the internet of a sobbing fan after the University of Kentucky men's basketball team were handed their first loss of the season to end up at 38-1, one win away from a historic and record-breaking season. That's cause for any fan to shed a few tears but the masses aren't seeing it that way. This particular fan has been berated by fans and news outlets alike for his unabashed reaction to his team's elimination and Top of the World has vowed to do right by not just this fan but to college basketball fans across the country – to show that this type of passion for one's team should be celebrated rather than humiliated.
Thus, Top of the World has set about on a social media manhunt, encouraging its followers to share and "Find this Fan" (#FindThisFan) and in doing so will give away one of every style of Kentucky Wildcats hat they have in their building to brighten this guy's day! With over 100,000 sq. ft. and more than 1 million units of collegiate headwear inventory, this should be a hefty amount of hats! Top of the World is The Cap of College. They live for the fan and for the love of the game. This young fan has been taking a beating on social media and Top of the World wants to turn his loss into a big win!