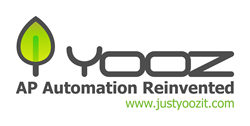 DALLAS/FORT WORTH (PRWEB) April 08, 2015
Yooz, the cloud service that lets businesses streamline their accounts payable (AP) workflow, today announced that it has partnered with Intacct, a leading provider of cloud financial management and accounting software. The seamless integration between Yooz and Intacct will enable companies to further streamline the accounts payable workflow from purchase to payment, all within Intacct's cloud financial platform
As part of the partnership agreement, Yooz will be featured on the Intacct Marketplace – the certified market for innovative software that is pre-integrated with the Intacct cloud financial management system. The Intacct Marketplace provides an easy way for Intacct customers to research and source complementary solutions to extend the value of their Intacct implementation.
"AP automation is an area where many companies can dramatically cut cycle time and processing costs. Yooz lets any business streamline their workflow and cut costs by up to 70 percent. We are excited to partner with Intacct to bring AP intelligence to more companies," said Matt Williams, CEO of Yooz Inc. "We know that our customers will also be interested in the seamless cloud environment that Intacct's financial system offers."
With Yooz, companies can quickly and easily update the time-consuming manual entry of invoices and other documents. As a pure cloud-based service with no upfront investment in new hardware or software, Yooz is the most cost-effective and efficient way to capture all relevant documents, including purchase orders and paper invoices.
Accounting departments can quickly and easily process and approve documents since Yooz automatically codes them to the GL for straight-through processing. Automatic duplicate detection is one key benefit to gain better visibility and control costs. A simple Google-like search box provides instant image visibility for up to seven years. With Yooz, it's simple to set up workflows that result in shorter cycle times, while the Yooz payment solution can add additional revenue opportunities through locking in rebates and discounts.
"Mid-sized companies are increasingly looking for ways to streamline processes and make their finance teams more efficient," said Scott Lumish, VP of Business Development at Intacct. "Intacct offers these companies a cloud financial platform to automate key process and increase visibility into their financial performance. The integration of Yooz with Intacct provides our customers with a way to further automate their AP workflows and gain added value from both systems."
To view Yooz on the Intacct Marketplace, click here. In addition, both Yooz (booth #211) and Intacct (booth #435) will exhibit at the Multi-Unit Franchising Conference, taking place April 8 - 10 in Las Vegas.
About Yooz:
Yooz brings intelligence to AP automation. It is designed and built for the era of cloud computing, empowering SMEs to streamline their financial workflow in order to save time and money. Yooz was developed by ITESOFT (ITE:EN), a European company that has for more than 30 years been a leader in intelligent document capture and process automation. Yooz has more than 1,300 customers. For more information, visit http://www.justyoozit.com.
About Intacct:
Intacct is the cloud financial management company. Bringing cloud computing to finance and accounting, Intacct's award-winning applications are the preferred financial applications for AICPA business solutions. Intacct accounting software, in use by more than 8,500 organizations from startups to public companies, is designed to improve company performance and make finance more productive. Hundreds of leading CPA firms and Value Added Resellers also offer Intacct to their clients. The Intacct system includes accounting, cash management, purchasing, vendor management, financial consolidation, revenue recognition, project accounting, fund accounting, inventory management, and financial reporting applications, all delivered over the Internet via cloud computing.
Intacct is headquartered in San Jose, California. For more information, please visit http://www.intacct.com or call 877-437-7765.
Media inquiries:
Andrea Heuer
Heuer Media for Yooz
andrea(at)heuermedia(dot)com
(917) 886-5113
@andiepear