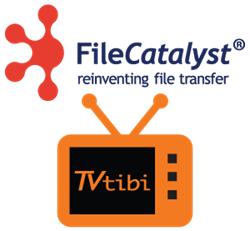 We are very happy with the FileCatalyst solution
Ottawa, Canada (PRWEB) April 08, 2015
Unlimi-Tech Software, Inc., the Emmy® Award winning pioneer in managed file transfers and the creator of FileCatalyst, an accelerated file transfer solution, is pleased to announce the selection of FileCatalyst Direct by Ready, Set, Sync!, the company behind TVTibi.
TVtibi is an over-the-top "TV… Everywhere!" platform to help content owners reach new customers and launch new channels at an affordable cost. TVtibi is a global service offering individually purchased channels, series, episodes, and movies through both live and on-demand content, via their downloadable app, and is accessible on televisions, computers, phones, and tablets.
TVtibi required a solution that would allow video content to be transferred quickly and reliably to and from the cloud. They also needed a solution that was user friendly and easy for their clients to use. The chosen technology was FileCatalyst Direct, a suite of client and server applications that enable point to point accelerated file transfers at speeds of up to 10 Gbps, and FileCatalyst HotFolder, a desktop application that is installed on the end-user's machine that allows for the creation of scheduled, automatic tasks. This technology allows a user to schedule regular uploads of video files to the cloud, at blazing speeds. Files that traditionally took hours or days to transfer are able to be sent in a matter of minutes.
TVtibi clients are impressed with the technology, "We are very happy with the FileCatalyst solution. Our clients keep telling us how easy it was to install and are extremely impressed with how easy FileCatalyst is to use," said Matthew Beck, CEO of Ready, Set, Sync!
"It's not uncommon for small companies to need an easy to understand solution, and in the case of Ready, Set, Sync! one that could work globally" said Dave McKeen, Vice President of Sales at Unlimi-Tech Software, Inc. "Being able to fulfill their requirements is something we're excited about. We're along with them on this new endeavor and we can't wait to watch it succeed."
Matthew Beck will be speaking about TVtibi's use of FileCatalyst in the FileCatalyst speaking theatre at 11am on Wednesday, April 15, 2015, in booth SL8505 at NAB.
About Unlimi-Tech Software, Inc.
Located in Ottawa, Canada, Unlimi-Tech, a pioneer in managed file transfers, is the Emmy® Award winning creator of FileCatalyst, an accelerated file transfer solution. Founded in 2000, the company has more than one thousand customers in media and entertainment, energy and mining, gaming, and printing, including many Fortune 500 companies, as well as military and government organizations. FileCatalyst is a software platform designed to accelerate and manage file transfers securely and reliably. FileCatalyst is immune to the effects that latency and packet loss have on traditional file transfer methods like FTP, HTTP, or CIFS. Global organizations use FileCatalyst to solve issues related to file transfer, including content distribution, file sharing, and offsite backups. To learn more visit filecatalyst.com or @FileCatalyst on Twitter.