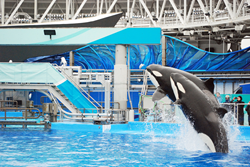 San Francisco, California (PRWEB) April 13, 2015
The lawsuit, MARC ANDERSON AND ELLEXA CONWAY, plaintiffs v. SEAWORLD PARKS AND ENTERTAINMENT, INC. Civil Case No. CGC-15-54292: was filed on April 13, 2015 in Superior Court of the State of California for the City and County of San Francisco.
The filed Complaint is appended HERE.
The suit was filed by the law firm of Covington and Burling LLP, San Francisco, California office.
Non-profit conservation organization Earth Island Institute and its International Marine Mammal Project is assisting the law firm and plaintiffs in the suit.
The suit alleges that SeaWorld makes and profits off of false and misleading statements concerning the welfare of their captive orcas in violation of both the California False Advertising Law – Cal. Bus. and Prof. Code 17500, et seq. and California Unfair Competition Law – Cal. Bus. & Prof. Code 17200, et seq.
The suit further alleges (court filing, p. 2; line 14):

"SeaWorld's practices and countless studies demonstrate that SeaWorld's statements regarding the care and health of their captive orcas are false and misleading. Orcas are large, highly intelligent, and extremely social predators. Yet SeaWorld's orcas live significantly shorter lives than their wild counterparts; complete dorsal fin collapse is generally quite rare in the wild but extremely common, if not universal, among captive male orcas; and SeaWorld often separates tightly knit orca families, causing psychological harm and leading to maladaptive behaviors. In sum, captivity at SeaWorld harms orcas."
The suit further alleges that SeaWorld's marketing efforts conceal its mistreatment of orcas, (court filing, p. 3 ; line 16):

"SeaWorld San Diego's home page features a prominent photo and link titled "Our Care for Killer Whales." The link takes visitors to an open letter which states that the lifespans of SeaWorld's orcas are "equivalent with those in the wild" and that SeaWorld does not separate orca mothers from calves. In another location, SeaWorld's website misleads consumers into believing that dorsal fin collapse is common among wild male orcas, citing a scholarly paper. On a page titled "Truth about Blackfish," SeaWorld states that it is "wrong" that "life at SeaWorld is harmful for killer whales."
(court filing, p. 3; line 23):

"These claims are misleading if not outright lies. Conveyed to purchasers through the website, and disseminated to Plaintiffs and the public at large through promotional materials and emails, SeaWorld's false statements are misleading to reasonable consumers."
(Court filing, p. 4; line 3)

"Plaintiffs bring this action to on behalf of themselves and all other similarly situated consumers to halt SeaWorld's dissemination of false and misleading statements and correct the false and misleading perception created by SeaWorld. Plaintiffs seek injunctive for all consumers who purchased SeaWorld tickets in reliance on SeaWorld's representations concerning orca welfare."