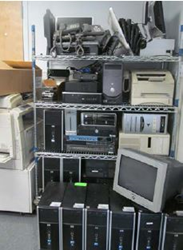 (PRWEB) April 10, 2015
To help combat the estimated 200 million+ unused electronic-related products being stored in homes and offices nationwide, e-End of Frederick is providing the local community an upcoming chance to drop off old, unused electronics for environmentally-responsible recycling.
The event will be held on Saturday, April 18th from 10:00am to 2:00pm at e-End's headquarters located at 7118 Geoffrey Way in Frederick (Rt. 85 South - First left past English Muffin Way). In the event of inclement weather, the event will be rescheduled for Saturday, April 25th.
Residents and businesses from Frederick and the surrounding areas are welcome to bring their old computers, printers, cell phones, personal electronic devices, office equipment, VCRs, stereos, cables, cords and more for free recycling.
Arleen Chafitz, CEO of e-End, says "This is a wonderful opportunity for people to get a jump on their spring cleaning and be able to dispose of their old electronics in a way that prevents these items from posing a risk to the environment."
As an R2:2013 Certified recycler, e-End guarantees 100% recycling of equipment, which means nothing will end up in the landfill or be illegally exported. e-End is also AAA Certified by the National Information of Destruction (NAID) to ensure complete and unrecoverable destruction of all personal and sensitive data on any devices dropped off.
While most items will be accepted for free, there will be an event-only discounted handling charge of $5.00 for each CRT monitor and $10.00 for each tube TV. Certificates of Data Destruction for those people needing information for their records will be available for $5.00. Cash and credit cards will be accepted for payment.
"We're thrilled to once again be able to host this event for our community," said Chafitz. "After last year's event where we collected over 20 tons of old electronics, we look forward to an even bigger turnout this year."
For additional information, visit http://www.eendusa.com/earthday2015 or call (240) 529-1010
e-End is also open Monday to Friday, 9:00am to 4:00pm, for residential electronic recycling drop-off.
About e-End:
e-End is a Certified Woman-Owned Small Business located in Frederick, MD offering secure data sanitization of electronic media and electronic recycling to government agencies and to a broad range of companies. Steve Chafitz, President, is a subject matter expert on both sanitizing electronic media and electronic recycling. For additional information, call 240-529-1010 or visit http://www.eendusa.com.