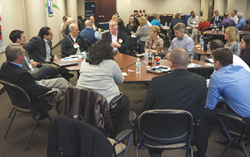 The valuable interaction with peers is one of the most important benefits participating in CCNG events...
Fort Worth, Texas (PRWEB) April 07, 2015
CCNG International Inc. is pleased to share details of regional events scheduled for April, May and June to be hosted by area members in their customer contact operation centers. The April event hosts include Time Customer Service in Tampa FL on the 16th, in Phoenix AZ at Best Western on the 23rd and on the 30th at Kohl's in Dallas TX.
Regional events hosts for May and June include AAA Western & Central New York on May 14th and in Columbus OH on June 4th at host site Highlights for Children. CCNG partners sponsoring these events include Five9, inContact and new partners Vocalcom, Windstream, Calabrio and Avaya.
The new Customer Experience and Engagement regional events are hosted by CCNG members featuring the unique meeting format designed for maximum engagement from all attendees and speakers. The agenda format includes a host presentation, Group Dialogue / Open Town Hall, Focus Talks from event sponsors and small group conversations facilitated by the speakers…concluding with a site tour of the host customer contact operation.
"It was an absolute pleasure to hosting a CCNG event at our contact center site. The valuable interaction with peers is one of the most important benefits participating in CCNG events" says Vickie Newkirk, Customer Care, Colorado Springs Utilities. "I view networking and sharing with peers through CCNG as a necessary part of ongoing education for our industry…thanks to CCNG for facilitating this engaging event!"
Each regional event will feature host presentations at the start of the day's agenda. April host speakers include Chris Vasquez, Customer Care Manager, Time Customer Service, Dan Hale, Director-Customer Care Reservations, Best Western and Christian Jensen, Director of Customer Service, Kohl's.
May and June host speakers include Alexander Wareham, Manager-Planning, Analytics & Quality, AAA Western & Central New York, and Jeff Cundiff, Director-Customer Contact Centers, Highlights for Children.
"The perspectives brought to these regional events by our partners is critical to the success of the discussions of the day" says David Hadobas, President & CEO of CCNG International Inc. "Sponsors help to drive the agenda and add experience from their clients to bring new insights across both industries and applications."
Annually CCNG works with members to plan over 25 half-day events on a regional basis throughout the United States. "Key to the popularity of these events is getting experienced customer care management together in a comfortable setting to share their views, issues and best practices" says Hadobas.
For details on how to attend and membership options, please contact Ginger Graber, ggraber(at)CCNG(dot)com. View program details at – http://www.CCNG.com.
CCNG International Inc.
Founded in 1992, CCNG International Inc., CCNG is a member Professional Peer Network (PPN) for Contact Center, Customer Experience and Customer Service Executives, Managers, and Leaders.
By joining the CCNG Member Network, experienced industry professionals:

Connect – interact and engage with your peers,
Collaborate – discuss best practices and problem solve,
Contribute – share your own experiences and expertise.
All Call Center, Contact Center, Customer Care, Customer Service, and Customer Experience Professionals are invited to participate in the CCNG Member Network. For more information about the CCNG Member Network, please visit CCNG.com, "Like" us on Facebook, and follow us on Twitter - @CCNGNetwork.
# # #