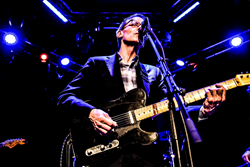 Each song is... powerful, subtle and entertaining to music lovers.
Los Angeles, CA (PRWEB) April 08, 2015
Totem Artists, Inc. is releasing the sophomore album "On The Horizon" by it's flagstaff recording artist, TJ Doyle. The critically acclaimed album, "On The Horizon" is a follow up to Doyle's 2009 debut album release, "One True Thing".
Rare performances in famous Los Angeles venues like The Roxy Theatre, Whisky A Go Go and The Mint have made TJ Doyle's music one of LA's best kept musical secrets but this is going to change with more shows planned in support of the release of his new album in 2015.
"I want to help people realize that deep down we all have more in common than we appear to have on the surface, and each song on my new album characterizes this in a context that is powerful, subtle, and entertaining to music lovers", says Doyle. His intricate guitar based music differs from today's fair, but his themes are very much in the present according to many album reviews garnered before the actual release date.
More "On The Horizon" Reviews:
On The Horizon is available for purchase by song or as a whole album as of today.
Doyle is currently working on songs for his 3rd album expected in late 2016, and performing often with his very tight 6-piece band. An Album Release Show will be performed at The Whisky A Go Go on Thursday, April 9 at 8PM. Totem Artists, Inc. is an Indie Record Label based in Los Angeles.