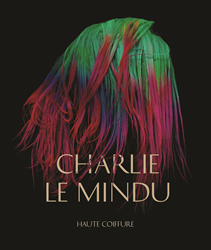 Seeing my passion reunited in one place will fill me with emotion – and hopefully everyone who sees it, because as I always say, 'You love it or hate it.'
Dublin, IRELAND (PRWEB) April 09, 2015
Roads Publishing announced today that they will produce a stunning coffee-table book by fashion designer and hair stylist sensation Charlie le Mindu in the fall. Best known for some of Lady Gaga's most outrageous 'dos, le Mindu's avant-garde work is internationally recognized and revered. His book Haute Coiffure will provide an exclusive insight into his extraordinary life and achievements.
Charlie le Mindu expressed enthusiasm about this upcoming project: "With my first book I want to share my most visual artwork but also give people the chance to look behind the scenes and see my techniques. Seeing my passion reunited in one place will fill me with emotion – and hopefully everyone who sees it, because as I always say, 'You love it or hate it.'"
Lavishly illustrated with provocative photography from eminent fashion photographers, including Ellen Von Unwerth and Tim Walker, Haute Coiffure will include personal contributions from le Mindu's most celebrated clients and friends, including Lady Gaga, Drew Barrymore and Lana del Rey. The book will follow his journey from humble beginnings in France, through his days cutting hair in nightclubs in Berlin, to current projects. The book will feature a behind-the-scenes look at his salon in Harrods, his collections at London and Paris Fashion Weeks, and his work with some of the fashion, art and entertainment worlds' biggest names.
Danielle Ryan, CEO of Roads Group, said: "Charlie is the perfect collaborator for Roads and we are delighted to be publishing his book. He is supremely talented and he has opened the world's eyes to the versatility of hair and its potential for experimentation and self-expression. While he is a darling of the fashion and art worlds, his work has the power to captivate everyone."
Haute Coiffure by Charlie le Mindu will be available this September in the UK and Europe and this October in the US. All other language rights are still available.
Just 100 copies of a deluxe limited edition of the book will also be available at select retailers and will include one of le Mindu's wigs alongside other, more risqué extras.