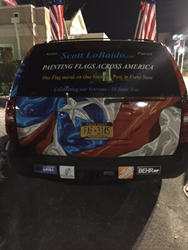 Long Island City, NY (PRWEB) April 20, 2015
CitiQuiet is proud to sponsor Scott LoBaido on his third national tour to honor our troops. LoBaido will travel cross-country to depict long-lasting, 3D American flags on Veterans of Foreign Wars buildings or American Legion posts. LoBaido uses his artwork to recognize veterans' service and therefore completes his paintings free of charge. This year's six-month tour will run from February through September and will culminate in an auction for his travel car, "Betsy". LoBaido is determined to once again express his gratitude and greetings for those leaving to and coming from war through his beautiful, patriotic paintings.
"I'm bringing it and I'm bringing it hard and I'm bringing it to every state and letting the world know and the country know and everybody else know that you guys and girls are the cream of the crop. We are nothing without you," said LoBaido.
Over his 25 years of experience, LoBaido has showcased his artwork on cars, homes, police stations and more. He completed his first tour in 2006 where he travelled for 10 months and created the largest version of the American flag, which totaled 150,000 square feet. LoBaido has been acknowledged through various media for his hard work and dedication. His most notable appearances include CNN's Anderson Cooper and a "Person of the Week" recognition on ABC's World News Tonight. The media and press will also be documenting this year's progress and mural dedication ceremonies that will occur after the completion of each American flag painting.
About CitiQuiet
CitiQuiet is pleased to work with The Stephen Siller Tunnel 2 Towers Foundation, Home Depot and Behr Paint as they collectively support LoBaido's renowned paintings. CitiQuiet is a leading manufacturer and expert in soundproof windows. They have installed thousands of custom windows in homes, schools, hospitals and more. They offer a wide range of soundproofing options that are energy efficient, reduce noise by up to 95% and reduce the amount of dust, dirt and moisture in homes. In addition, CitiQuiet windows are installed directly on top of existing windows with no construction cleanup so that the window's look and feel can be maintained.