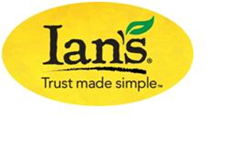 Boston/Framingham, MA (PRWEB) April 07, 2015
Because of its commitment to advocacy, education and gluten-free, allergy-friendly foods, Ian's is pleased to announce that it will be exhibiting at the Gluten Free for Life Symposium on Saturday, April 11 from 7 a.m. to 3 p.m. The event is an informative, day-long opportunity to learn the latest resources for diagnosing, treating and living well with celiac disease. Those with celiac disease and their families are invited to stop by the Ian's booth to experience why Ian's extensive line of delicious, gluten-free, allergy-friendly foods truly means Trust made simple™.
The symposium is sponsored by the New England Celiac Organization, in affiliation with the celiac program at Harvard Medical School. Visitors living with celiac disease and other gluten sensitivities will join healthcare professionals and registered dietitians in accessing the latest science and nutritional information, while enjoying a delicious gluten-free breakfast and lunch. More than 30 gluten-free vendors, including Ian's, will be on hand to answer questions and distribute useful information about gluten-free and allergy-friendly foods.
Ian's allergy-friendly, gluten-free offerings are among the most comprehensive on the market, with over 30 gluten-free choices ranging from breakfasts and dinners to snacks and appetizers.
"Our mission has always been to provide delicious foods the entire family can enjoy, while making it easy for those with special dietary needs," said Chuck Marble, CEO of Elevation Brands, parent company of Ian's. "We believe people with food allergies and sensitivities deserve to enjoy popular foods worry free."
Approximately 3 million people in the U.S. have celiac disease, and only 5% of them know they are affected, according to whathealth.com, making education and awareness critical.
Ian's makes information and advocacy a key component of its mission. The company's website covers a whole range of food allergies with a special "ask the dietitian" feature that allows for questions 24/7.
CEO Chuck Marble has recently been elected to the board of the New England Celiac Organization, which represents and serves individuals with celiac disease and gluten sensitivities across the New England area.
The Gluten Free for Life Symposium will be held at the Four Points by Sheraton in Norwood, MA. For information about registration, visit http://www.neceliac.org.
For more about Ian's, please visit http://www.iansnaturalfoods.com. For interviews or product samples, please call the contacts listed at the end of this release.
ABOUT IAN'S NATURAL FOODS
Ian's is the pioneer of high-quality, gluten-free allergy-friendly foods consumers can trust. Products are made on-site in Ian's Framingham, Mass., facility where allergy-friendly, gluten-free food safety practices exceed federally mandated standards. All products are laboratory-tested for allergens and the plant's equipment is cleaned and sanitized, following stringent food safety standards. Ian's gluten-free, allergy-friendly items are available nationwide at local natural and organic retailers and in the natural section of many grocery store chains or by direct purchase online at http://www.iansnaturalfoods.com.
MEDIA CONTACTS:
Alexandra Salazar
McFadden/Gavender
O: (520) 882-6262
M: (520) 820-9948
alexandra(at)mcfaddengavender(dot)com
Christina Thompson
McFadden/Gavender
O: (520) 882-6262
M: (623) 229-2597
christina(at)mcfaddengavender(dot)com
Website:
http://www.IansNaturalFoods.com