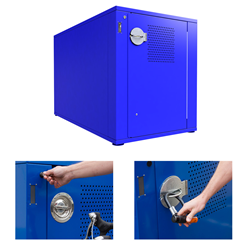 Minneapolis, MN (PRWEB) April 08, 2015
Dero is proud to announce the addition of the Dero Bike Locker to its extensive product line of bike parking solutions. The Dero Bike Locker is bike security at its best and is ideal for long-term bike parking applications such as at transit hubs and college campuses.
Whether it's protection from weather or thieves, the Dero Bike Locker is a solid choice for long-term bicycle parking. Municipalities, governments, universities, and businesses will love the sturdy steel construction with locking options that include a u-lock/padlock compatible handle or a keyed lock, while cyclists will appreciate the enclosed security and gear hooks that come standard.
Customers can choose either a single-sided or double-sided model in a galvanized or powder coat finish. Ventilating windows on the doors allow for easy monitoring of the locker's contents. Installation is simple, with leveling feet for uneven surfaces. The Dero Bike Locker also ships flat to save on freight.
ABOUT DERO
Since 1995, Dero has been supplying innovative bike parking and bicycle transit solutions to architects, contractors, municipalities, higher education, and parks and rec. Its bike racks, repair stands and pumps, shelters, and lockers are high quality, thoughtfully designed and secure. Dero also offers the award winning Dero ZAP, an automatic system to track bike commuters. Dero is located in Minneapolis and is proud to support biking locally and nationally.